Solid Waste Management System
NEC solid waste management system helps in making the cities waste free by having RFID tags and CCTV cameras with the help of real time monitoring system.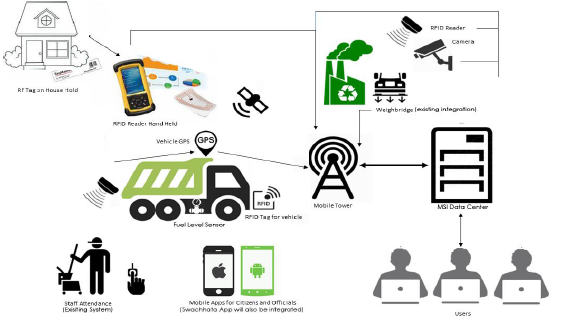 City Level Dashboard
Call Centre Management
Vehicle tracking and monitoring
Door to Door Waste Collection monitoring
Weighbridge monitoring
Report generation
Incident Management – Citizen Grievance redressal system
Vehicle GPS Tracking System: Data from GPS Trackers enabled waste collection vehicles of Municipal Corporation which are covering all areas of City, will serve main objectives of Real time monitoring, View route replay of vehicles and Planning and optimisation of operations based on historical data.

RFID Tags and Readers: A unique identification code based RFID Tags which is installed on Bins and households of each wards, which can be read by Staff. Main objective of system component is to carryout micro level monitoring of door to door waste collection through analytical report based on the data combination of vehicle movement and reading of RFID Tags

CCTV Cameras (PTZ): These cameras will support SWM System operations and enable authorities to monitor the real-time status of various incidents and activities of City.