NEC's smart suite of transportation solution such as AVLS, Depot management system, incident management solution, Automatic fare collection system, planning & scheduling system, and Business intelligence system is leveraging the power of ICT to solve social and economic issues such as traffic congestion in public transport.
Automatic Vehicle Locating System (AVLS) and Passenger Information System (PIS)
NEC's automatic vehicle locating system is built to gather real time information of the buses travelling on the route. Based on this data gathered, information to passengers is passed on through displays at stops, inside the buses as well as through websites and mobile applications. The collected data helps public transport operators with effective information for fleet planning, performance measurement, monitoring fleet location and delivering new and improved services.

NEC's AVLS solution gives the true multi-tasking and multi-user environment with capabilities to monitor, supervise and control operations with real-time data: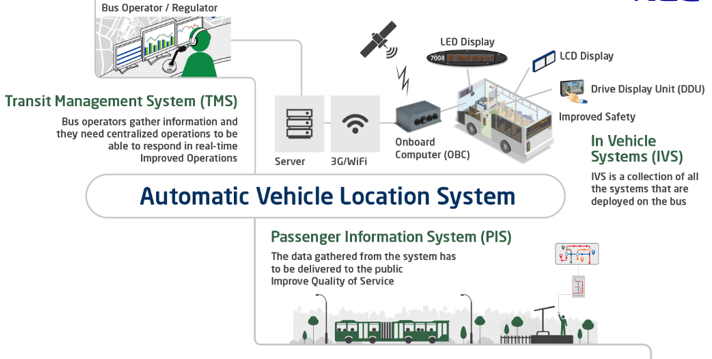 As the name suggests passenger information system primarily focusses on providing information to the passenger traveling on the buses. The information to the passenger is passed on through displays at bus stops indicating the timings, routes etc., displays inside the buses, as well as journey planners and estimated time of arrival through mobile applications and websites.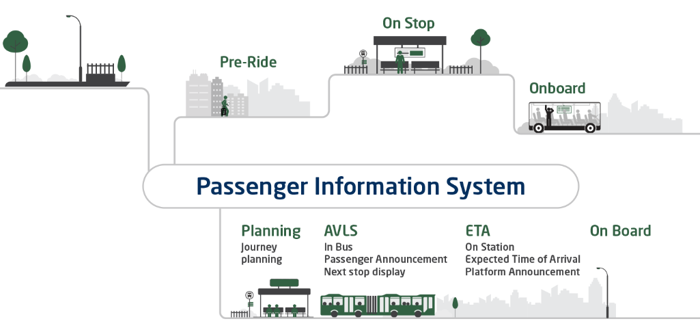 Service performance and planning management – for monitoring efficiency of transit operations
Incident management (events, alerts) – real time incident management, enabling dispatcher to make informed decisions and make timely response and have the overall picture of performance of the fleet
Bidirectional communication – communication between driver and dispatcher using both voice (VoIP-voice-over-IP) and text messages
Passenger information services – system delivers real time passenger information to passengers on board using audible announcements and signs inside the bus, via displays at stations, via smartphone and web portal
Automatic Fare Collection System
The two most prominent factors ailing the public transport sector in India are:
a)

Rider satisfaction

b)

Agency/Operation efficiency and profitability
The fare collection system developed by NEC aims at reducing these pain points for any public transport system by providing easy accessibility to information to public, providing a satisfactory ride by increasing comfort and reducing.

Historically, public transport in India has not been a very profitable field as the expense of running the system ends up being much higher than the revenue generated. The Automatic Fare Collection System developed by NEC is targeted at changing this scenario and has been able to do so successfully in the cities where the system is implemented. On deploying the AFC System agencies benefit by increasing performance, reducing maintenance failures and having better business continuity. Audits which play a very important role are automated resulting in reduction in errors or leakage. A good public transport system results in people using the system and hence increasing the profitability of the operator.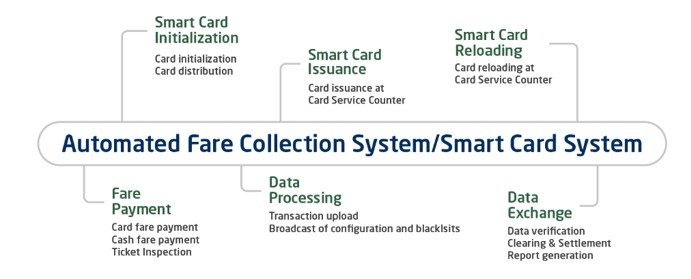 Features of NEC's Automatic Fare Collection System
Multimodal solution– NEC provides multi modal automatic fare collection solution which is used for easy and accurate revenue collection while providing better travel experience to passenger.
Multi-media Solution – NEC's fare collection system is equipped to offer payment through various payment types like smart cards, paper tickets, mobile tickets etc
Central Clearing house – NEC's fare collection system offerings are designed to cater to systems with single operator as well as multiple operators featuring clearing house
Depot Management System (DMS) is envisioned to automate the depot operation for public transit system. Depot operation in summary is to record, update and manage manual activities that take place to efficiently operate the fleet - starting with when a bus, crew enters (checks in or reports to) the Depot and ends with the bus or crew leaving the depot.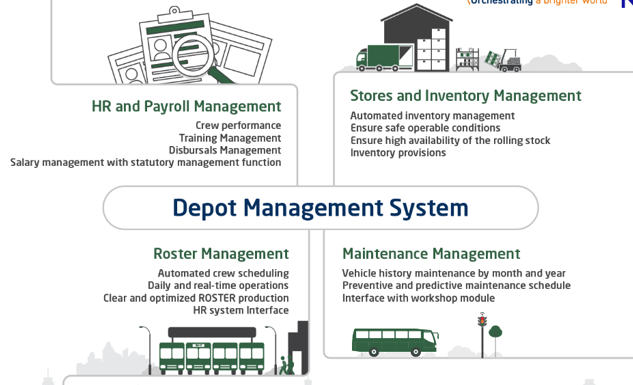 Features of Depot Management System
HR & Payroll Management

Crew performance
Training Management
Disbursals Management
Salary management with statutory management function

Stores & Inventory Management

Complete automated inventory management services to Depot Manager
ensure that the vehicles are in safe operable conditions
always high availability of the rolling stock
Inventory provisions for paper rolls, bus spares, tyres, IT assets

Roster Management

Assign crews automatically to the schedule
Daily and real-time operations
Produce clear and optimized ROSTER
Interface with HR system to update crew absence, holidays, etc

Maintenance Management

Complete history of each vehicle maintenance by month and year
Preventive & predictive maintenance schedule
Interface with workshop module
Planning & Scheduling System
The objective of Vehicle Planning Scheduling and Dispatch system is to enable / help Transport planners in performing following tasks efficiently and effectively.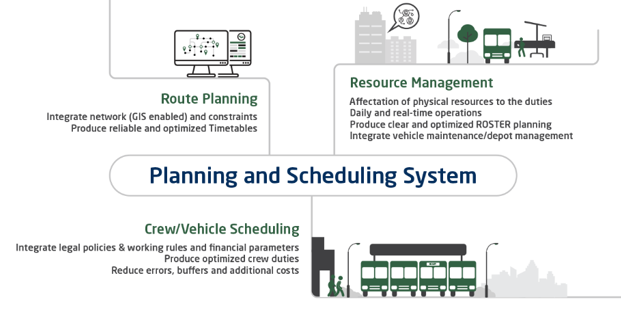 Incident Management System
NEC's incident management solutions are grouped into two major group, differentiated by the type of incidents:
b)

Comprehensive integrated IT infrastructure management suite
The comprehensive IT infra management suite makes sure of a 100% uptime of the IT infra deployed in the central control centres through instant intimation for incidents happening in the network. This incident management system acts as a watchdog for the network to make sure the system is up and running throughout without hampering the critical activities of the system. The typical services rendered through the network incident management tool are typically - Discovery of the network devices, servers, systems, etc., monitoring of the business critical servers, devices, applications and services, threshold monitoring & Notifications (extendable for dynamic base-lining), business service management, fault Management.
Business Intelligence System