Biometrics and AI can help the Post-Covid traveler feel safe!
Understanding the role of AI and Biometrics in the present-day travel ecosystem, towards fostering a sense of safety and security to post-covid travelers.

A few months have passed since the Omicron, better known as the third wave of the Covid-19 pandemic, has come and gone. With this, now the world has begun opening up its operations - places of work, educational institutions, movie theatres, performance spaces, and travel. People have begun travelling in far greater numbers, and more frequently. However, the threat of the pandemic is still at large and stories of fresh cases continue to pour in. Under such circumstances, how can travel be made safer?

The use of cutting edge technology like AI, ML, Biometrics, Facial Recognition, etc., can be instrumental in not only making Indian airports safe, but also efficient and streamlined, upto international standards. Recently, the Indian Parliamentary Committee made recommendations to introduce biometrics based solutions to cut queues at airports, given that they are back to being busy again after a two year lull. There already exists precedents wherein as early as 2016, the Ministry of Civil Aviation carried out a pilot project at the Hyderabad airport using biometric identification for allowing entry into the terminal. More recently, the Airports Authority of India, under the DigiYatra initiative, announced that 4 airports (Varanasi, Pune, Vijayawada, Kolkata) will be implementing (by March 2023) facial recognition boarding solutions.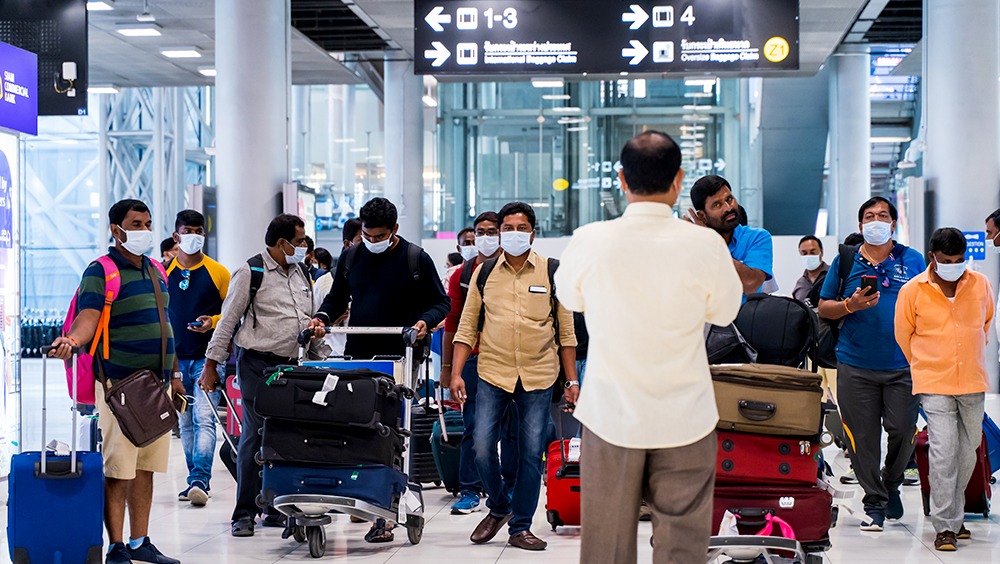 In short, India is ready, the time is ripe, and there is an incredible amount of scope to transform India's travel industry! Furthermore, projects like the UIDAI - a repository of iris scans and fingerprints, stored in the national digital registry - will cut the lead time for the implementation of such initiatives tremendously. So, what are some of the turnkey solutions/interventions that can be implemented towards building futuristic airports?
The larger the airport, the greater the crowds, longer the bottlenecks, and greater the delays. Handling crowds using traditional methods easily get rendered ineffectual. No-show passengers, lost children, sick passengers, etc., can cause significant delays in the airport, leading to wastage of precious resources across operators. Over here, Passenger Flow Management Solutions can come into play. With cameras and sensors located at various critical touch-points can help collect necessary data, which can then be analyzed through advanced ICT solutions, pertinent information can be provided as to the smoothen operations of an airport, increasing revenues, and enhancing security.

One of the most frustrating aspects of travel is undoubtedly the long wait time involved in checking-in baggage and then the subsequent drop-off. According to the 2019 IATA Global Passenger Survey, air customers want to wait no more than 3 minutes to drop off a bag. This number has likely decreased, or at the very least, remains the same. Even though interventions such as web and self-check-in introduced all over the world have certainly been helpful, biometric technology for airport check in and bag drop has far greater potential for ensuring speed and security in these processes, and ultimately deliver greater customer experience. Leveraging biometric technology for such services can also prove to be hugely beneficial for airport and airline operators, who can work with fewer staff, unlocking greater efficiencies. This would undoubtedly have positive ramifications on customer satisfaction and loyalty. With the increased time available, as a result of quick check-in and baggage drop off processes, on-site retailers at airports stand to gain from increased footfalls as well.

Surely everyone has had to endure long lines when it's time to board a flight - an unpleasant experience, especially when one is anxious to get settled in the aircraft. It is undoubtedly one of the biggest pain points of the modern traveler. It is possible to automate the entire boarding process with a frictionless boarding solution that allows passengers to use a biometric identity token as an authentication tool, wherein their identities are automatically verified using biometric data.

Airlines are expected to create and maintain a flight manifest, which contains passenger information for every outbound flight, and with increase in the number of flights, cancellations, and changes in itinerary, this has become exponentially more difficult to maintain with a reasonable degree of accuracy. Needless to say, this is an important document, as immigration authorities require this information in order to pre-screen arriving and departing passengers, thereby enhancing safety and security of individuals on board. Biometric flight manifest solutions can help streamline this process, eliminating human errors, and making for a secure and more efficient way of screening air travel passengers. Further, the system can be updated in real time by photographing individuals as they board a flight and hence can easily compensate for any previously unscheduled passengers.

How often have we found ourselves having to produce our boarding cards at airport duty free shops - not once, but at each purchase? This wastes precious time, and can easily dissuade travelers from shopping. Furthermore, the constant need to show identity proof while using credit cards for international travelers puts a spanner in the whole shopping experience. Seamless Payment Solutions which utilizes biometric authentication can help create a faster and highly customized airport shopping experience for travelers. Biometric identity tokens can be used to verify payments, travelers' identities, and they could entirely eliminate the need to show boarding passes multiple times. This can result in them spending more time at stores, increasing the potential for higher spending, thereby benefiting the retailers as well.

Airport lounges, in today's competitive travel ecosystem, have become more important than ever. With business travel resuming in a big way, and frequent flyers getting back to life as usual, it has become imperative for lounge services to be streamlined and end-user friendly, all while maintaining the highest standards of quality. Biometric airport lounge authentication solutions can support airports' and airlines' endeavors to provide their most valued customers with a pleasant travel experience. Such a solution can enable a VIP customer to seamlessly enter and exit an airport lounge without having to provide multiple identity documents, boarding passes and loyalty cards. A biometric, secure identity token, combined with other sources of information such as their food and drink preferences, can deliver a highly personalized and customized lounge experience!
The answer is clear - biometrics and AI can go a long way in catapulting the global travel industry to the next level. Many of the solutions mentioned above have already been adopted in several airports around the world, and are yielding incredible results! India has the infrastructure, the technical prowess, and a readymade database of biometric information of over 1.3 billion Indians, and can make this happen easily!


Apart from NEC resources, referenced:


https://simpleflying.com/india-biometrics-cut-airport-queues/