Submarine Cable Systems
Connecting Continents and Communities

Communication forms the essence of societies. The advancement of our modern societies has been echoed in the growth of our communication systems. In the current times, communication is playing an even vital role by connecting continents and people all over the world. Today, submarine cable systems carry over 99% of intercontinental traffic, making them the invisible enabler of global connectivity.
History

NEC has been manufacturing cables since 1935 and subsea housings since 1968. Decades of development experience continue to underpin our products and solutions today.
Delivery
Over the years, NEC has built a reputation for efficient project management on-time delivery, which puts it at the cable industry's forefront.
Quality
Our mission is to assure complete customer satisfaction, and we strive to achieve this through a profoundly ingrained Japanese culture of quality that aims for nothing less than perfection.
Innovation
NEC's commitment to innovation results in solutions that embody the latest technological advancements – providing our customers with an ever-higher global capacity while driving down the cost per bit.
Experience
NEC has accumulated unparalleled experience building complex turnkey cable systems in the most challenging political and marine environments. As a result, NEC is a trusted partner to many of the World's cable owners.
NEC entered into the submarine cable system business in 1968 and has since marked a presence globally. Today, we prepare to launch submarine terminal equipment operating at true 100G line rates – delivering ever-lower cost per Gbps.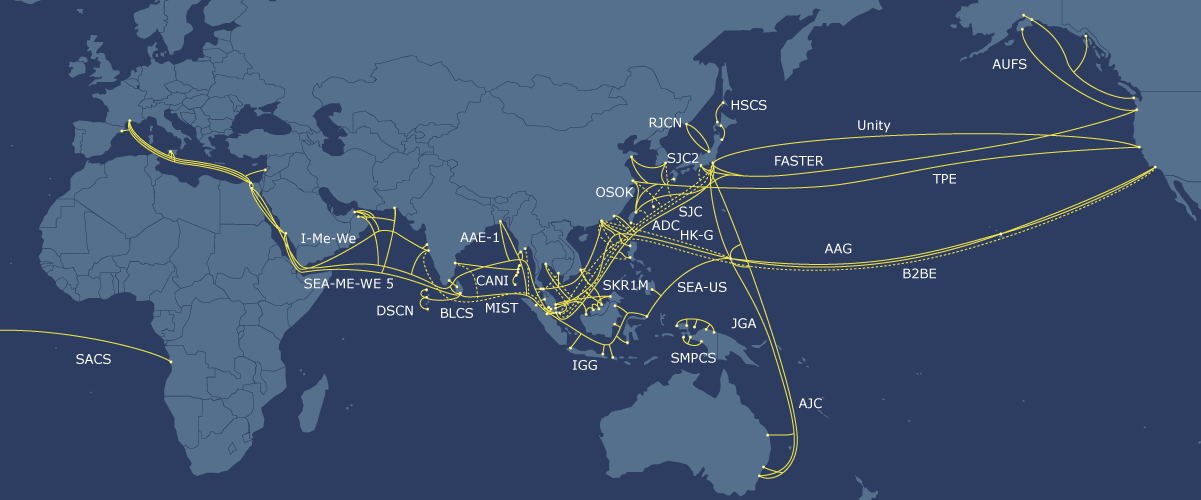 1) CANI – The CANI (Chennai Andaman Nicobar Islands) cable system directly connects Chennai with the eight remote islands of Andaman and Nicobar Islands ( Port Blair, Little Andaman, Car Nicobar, Kamorta, Campbell Bay, Havelock, Long, and Ranghat Islands with a cable length of 2300 kilometers and a design capacity of 100GB/second.

Salient Features
The cable system provides the remote Andaman & Nicobar Islands with ample bandwidth for supporting voice and data connectivity that enable the implementation of e-Governance initiatives, such as the establishment of new enterprises and e-commerce facilities.
The system is expected to assist educational institutes in the sharing of knowledge and will play a significant role in driving the "Digital India" vision, a campaign launched by the Government of India to ensure that Government services are made available to citizens electronically.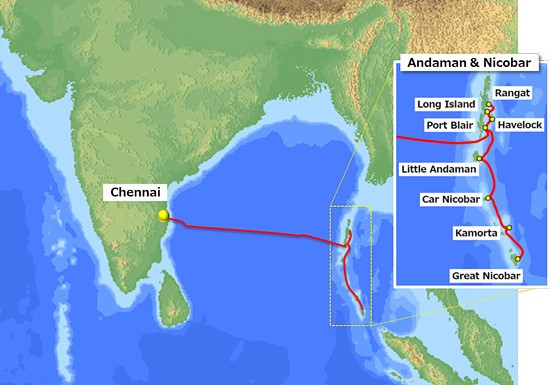 2) Asia Direct Cable (ADC) – 9400 km cable connecting China, Japan, Philippines, Thailand, Vietnam, and Singapore.

Salient Features
The cable will feature multiple pairs of high-capacity optical fibers and is designed to carry more than 140 Tbps of traffic, enabling high-capacity transmission of data across the East and Southeast Asian regions.
The project will enable high bandwidth tech advancements in the regions such as 5G, Cloud, and Artificial Intelligence.
3) B2BE (Bay 2 Bay Express Cable System) – 16000 km spread submarine cable system connecting Singapore, Hong Kong, and the United States.

Salient Features
The project will enable high capacity transmission of data across the Pacific Ocean with a round trip latency of fewer than 130 milliseconds.
It will contribute to expanding communications networks between the Guangdong-Hong Kong-Macao Bay Area, San Francisco Bay Area, and Singapore.
Carry at least 18 TbS of capacity/cable.
4) SJC2(SouthEast Asia – 2 Japan )- Superior cable system spanning 10,500 km connecting Singapore, Thailand, Cambodia, Vietnam, Hong Kong, Taiwan, mainland China, Korea, and Japan.

Salient Features
The cable will feature up to eight fiber pairs of high capacity optical fiber with an initial design capacity of 144 Terabits per second, thereby supporting high bandwidth intensive applications including Internet of Things, robotics, and analytics, and artificial or virtual reality applications.
18Tbps of capacity per fiber pair.
5) MIST – MIST features an 8100 km submarine cable system connecting the lands of Singapore, Malaysia, Myanmar, Thailand, and India, enhancing network connectivity and bandwidth.

Salient Features
Deliver a design capacity of more than 216 terabits per second (Tbps)
MIST will enhance and contribute to expanding communications networks from Asia, improving network redundancy, and delivering highly reliable communications. It will also expand onward connectivity options in the Bay of Bengal with its landing at Myanmar and Chennai