NEC Japanese Language Academy (NJLA)
Skill-building Partner for Japanese Language and Intercultural Trainings
NEC Japanese Language Academy (NJLA) is a first of its kind Corporate Initiative which brings together the best of Industry Experience and Academic Excellence under one roof. This unique Initiative will serve as a Gateway for those who want to explore various avenues in the field of Japanese and make their career in IT through our Specialized Trainings, Employment Opportunities and Placement Support.
Highlights
• First of its kind academic Institute owned and managed by a Japanese Multinational
• Learn Japanese from Industry Stalwarts with outstanding academic credentials
• Over 10 years of in-house experience in teaching and training Japanese Language Professionals and Engineers
• Focus on upgrading both source and target languages
• Opportunity for gaining hands-on experience through on-the-job Training
• State of the art facility in the heart of the city
• Smart classrooms with Computer aided teaching methodology
• Highly qualified and experienced Japanese Native and Indian faculty
• Excellent employment opportunities for meritorious students
• Easy accessibility through Metro (1 minute walk from Lajpat Nagar metro station - New Delhi)

NJLA Session
Background
• Inception in 2013, with the aim to cultivate Japanese Language skills and fulfill the growing internal business requirement of NEC.
Objective
• Aim at filling the skill gap required in business activities between both the nations.
• Contribute to the mutual economic growth of India and Japan by providing support for overcoming the two major impediments i.e. Language and Cultural barrier.
Programs Offered
• Since its inception, we have successfully imparted these trainings to two batches at NTI's premises, however, with the view to expand our services in the Indian market, we are now planning to cater language needs of individuals and corporates by establishing a new NTI Academy facility, a part of NTI Services
• To cater students' needs in the competitive work culture, we have designed a number of programs to deliver beginner level/intermediate level/advanced trainings, JLPT levels' trainings, practical Japanese in daily business communications, cross-cultural sensitization, business Japanese, Japanese language for engineers (both NEC and non-NEC).
NJLA Service Offering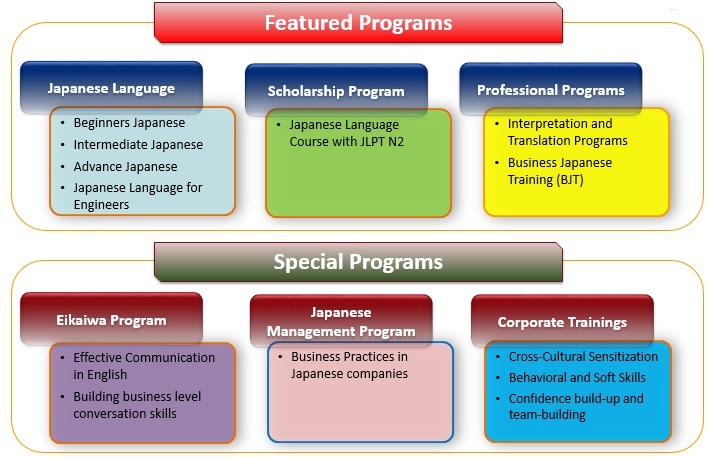 For Course Details, please contact:
Address: 1st Floor, A-31, Lajpat Nagar -2, New Delhi- 110024
Phone: 011-46015880
Email: njla@nectechnologies.in