Retail
Retail and consumer product companies operate in environments that are highly dynamic, with new challenges and opportunities emerging constantly. Better Customer Experience is the buzz of the day for Retailers. With growing economies, retailers hoping in rise of their business thus retailers focusing more on the digital front – 'Multi-Channel, Mobility, and Social Platforms like Facebook & Twitter' to stay ahead ever changing retail world.

Cautious spend patterns, evolving purchase channels and increasing competition are the key challenges faced by retailers. Consumers interact directly with brands and demand superior experience at lower costs. Changing consumer psychology, blurring of channels and supply chain globalization is adding to the complexity.
NTI combines technology and deep domain expertise and delivers consumer-centric retail solutions. Our offerings leverage in-depth technology expertise and rich retail industry domain experience to deliver results with uncompromised certainty. NTI caters to all kind of segments like food and grocery, specialty retailing, non-store retailing, fashion and apparel, general merchandise retailing and pharma retailing.
We offer a comprehensive suite of retail services and solutions that enable end-to-end transformations. Our services include:
Ecommerce
Retail Stores
Merchandising
Supply Chain Management
Products
RAKES- Rate, Availability and Booking Exchange Server
Multichannel retailing: It is the use of a variety of channels in a customer's shopping experience including research before a purchase. Such channels include: retail stores, online stores, mobile stores, mobile app stores, telephone sales and any other method of transacting with a customer.

Mobility: With increase in Smart Phone users, now customers are more inclined to use mobile devices to shop, compare, and transact on the Web or in stores. Thus for better customer experience, mobility is technology to bet on for Retailers
Digital consumers: Social Media, Smart Kiosk, Interactive TVs become a vital source of information for Customers' buying pattern. So Retailer hugely investing in these areas, to get access to larger Customer Pie. These digital platforms help retailer in analyzing market potential & buying patterns

How NTI can help you
With extensive domain and technology experience, NTI provides solutions and services that address strategic and operational challenges, optimize business performance, align technology with business priorities, reduce cost, improve margins and constantly sharpen competitive advantage.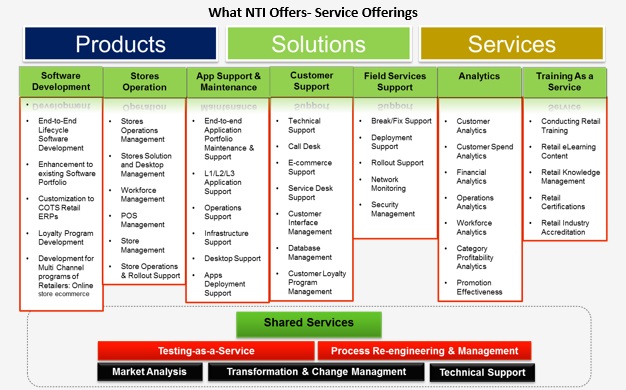 RAKES is the mediation server to connect NEC PMS (AG NEHOPS) to some of the global channels like Fast booking, HTNG and Trust etc.

With the number of reservations coming from online distributors has also increased. An increase in the number of sales channels is something to be welcomed by accommodation facilities, but at the same time, reservation/sales management tasks become more complicated, which results in a heavy work load. Accommodation facilities want to accurately and efficiently manage reservations from travel agencies, online distributors and their own websites.

RAKES includes the conversion of reservation data from Channel formats to PMS format and conversion of rate and availability data from PMS format to Channel format. Current Supported formats are "FastBooking" for Channel and "TL Lincon" for PMS.

Major functions of this scope are as follows:

Receive FastBooking reservation data from Channel and convert in the TL Lincon format for PMS
Receive TL Lincon rate data from PMS and convert it in the FastBooking format for channel
Receive TL Lincon availability data from PMS and convert it in FastBooking format for channel
Main Functionality of RAKESTravel Interface
Reservation Interface- Converts & sends/receives the reservation information (Channel->Hotel)
Availability Interface-Converts & sends/receives the availability information (Hotel->Channel)
Rate Interface-Converts & sends/receives the rate information (Hotel->Channel)
Administration
Master Maintenance- Room type, Market, Hotel code conversion, Room type code conversion, Market code conversion, Rate plan category code conversion, & Rate plan code conversion master maintenance
Billing-Function for billing purpose is there in system to output detailed information of Reservation requested by Channel to Hotel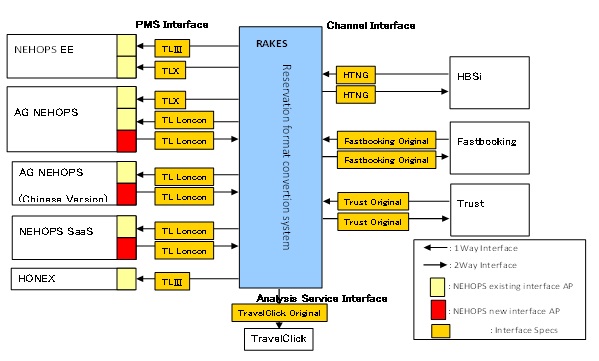 ORS- Open Retail System
An open retail system provides end to end retail operation (ordering, labeling, stock take, inventory, purchase, accounts payable, account receivable) for a multi-department store/mall.
ORS is the Point of Sale Solution having end to end life cycle encompassing the entire operations of a large format retail stores. The functionality covers POS retail store backend operations, HQ merchandising solutions and HQ financial applications including General Ledger.
Next Gen ORS is the replacement of Legacy ORS to Next Generation Open Retail System based on new technology (Java/ J2EE) and framework (SDE). J2EE used for making a platform independent solution and SDE framework used for generating code from design documents and further can be customized as per software needs. It also provided a first time feature Point management system (PMS) – Printable card on the fly.
System has following main components and modules:
Components: Point-of-Sales (POS), Terminal Controller (TC) and Headquarter (Back office)
Modules : Stock, Purchase , Accounts payable , Accounts Receivable , Sales , Common , General Ledger, Gift Voucher , E-Journal , User Menu and Point Management System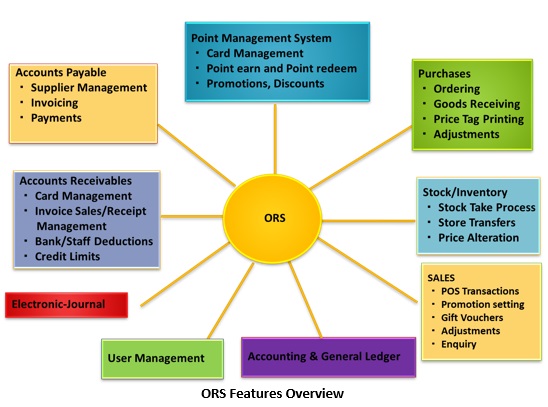 Case Study