Logistics, Distribution & Transportation
The Logistics & supply chain industry today is in a state of transition. It is an area that is ripe with potential and yet the resources are far from complete utilizations. There is however a huge demand for logistics services especially with the growing economies and on the other hand it brings into play the complexities arising from intricate supply chains, increased operating costs and strict regulatory demands for the logistics service providers.

Purpose of Logistics Industry
The purpose of logistics industry is to enable an effective transportation or timely movement of goods from one place to another. This could be for the purpose of industrial transportation or even private purposes.

A new breed of IT solutions is the key to solve some of these complex challenges in the logistics business. Solutions that are agile and flexible to adopt new business models and can efficiently offer clear visibility of the entire Logistics.

How NTI delivers business value
With the blend of domain expertise and technology NTI helps our clients in solving complex business challenges and unlock their value levers by creating outcomes in three key areas – business transformation, accelerating innovation, and efficient operations.

We help you in the following areas

Application Support services
Custom Application development / implementation services, infrastructure services and testing
Business application re-engineering
Products
LVS- Logistics Visualization System
Logistics Visualization System is a system instituting market place model for transportation and logistics sector and to further aid business amongst prospective customers and recognized service providers. By instituting a market place model, LVS would facilitate competitive business execution model amongst customers and various service providers.

LVS would also facilitate the automation of planning, execution and tracking the transportation and storage of cargo/goods and related services between the points of origin to the point of final delivery. LVS provides a platform where Customer/ Consignee can select/compare the best services on best prices & best quality. At the same time, it will give a platform where Service provider overcome geographical & functional fragmentation and can tap into the Logistics market Potential even for the geographies they never worked before.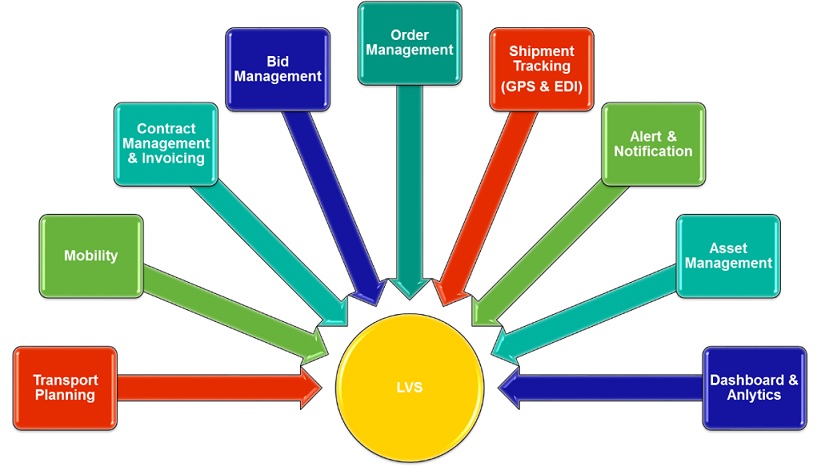 Order management: It includes customer Order Entry, Bill of Lading, XML Order Entry
Bidding Management: Allow customer to get services at best prices, and also increase Service Provider competitiveness
Tracking: Real time tracking from dispatch to delivery through GPS systems or EDI integration
Smartphone Support: Mobility is talk of the day, thus LVS Smartphone capable feature
Invoice & Billing : Accurate Bill to customer is always a challenge, thus this module Service Providers to invoice/bill to customers effectively & accurately thus ensuring smooth Payment
Alert & Notification: Every milestone in Logistics cycle, proactively informed to all parties in cycle thus helps in proper planning
Dashboard and Analytics: Various Logistics metrics to helps SP to plan their logistics operations effectively & Customer can evaluate Services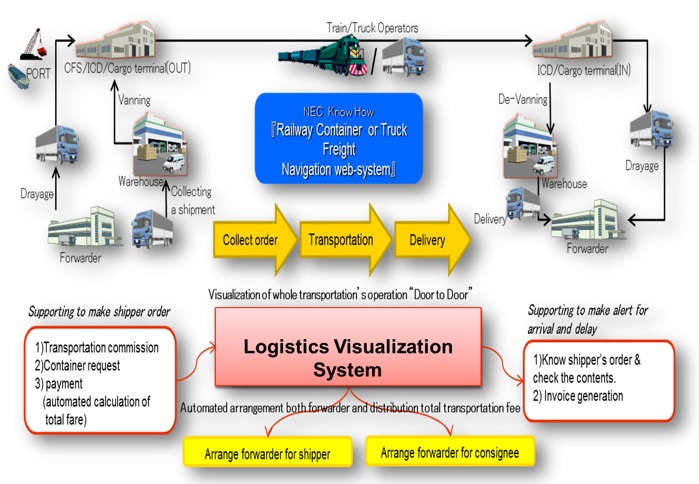 LDB – Logistics Data Bank
The concept of the Logistics Data Bank (LDB) has been developed to address the issue of tracking and viewing the movement of containers across the ports to the ICDs and end users. The LDB would be an overarching solution that will integrate the information available with various agencies across the supply chain to provide detailed real time information within a single window. The LDB would also provide value added services including comparative metric based analysis. This would enable the Government of India, State Governments, importers, exporters and other stakeholders to assess comparative performance; identify inefficiencies and bottlenecks to develop strategies to ensure the development of the sector.

LDB focus areas:

Container Tracking: This is the main highlight feature wherein a container's current location is tracked real-time through the application of RFID technology. Container tracking data from various input methods (Manual Data Input screens) or from multiple heterogeneous systems (belonging to LDB partners, LDB vendors or participating LCOs) is correlated.
EDI Integration: LDB system integrates the data obtained through various external systems. These external systems belong to LDB partners and participating LCO's. This is done through web services based call.
User Management Module: This module is an integral part of LDB solution to manage the organization settings, features and data access permissions and user settings.
Container cycle closure batch: Every milestone in the Logistics cycle is proactively informed to all parties through container status. A threshold-based logic is also developed to ensure cycle closure wherever triggers for status updates are missed for some reasons.
Dashboard and Analytics: There is a reporting on various logistics metrics to help partners to optimize their logistics operations effectively. Some example metrics that are reported include throughput, lead time etc.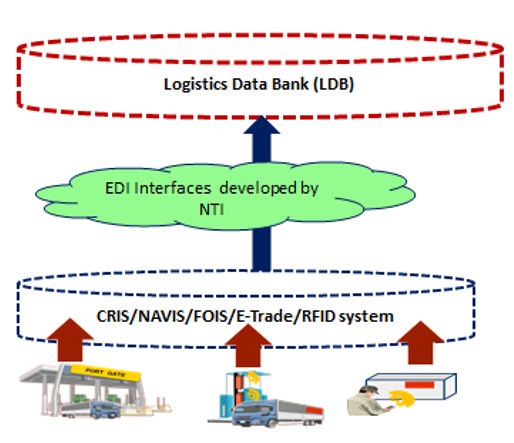 Case Study