NEC SL1000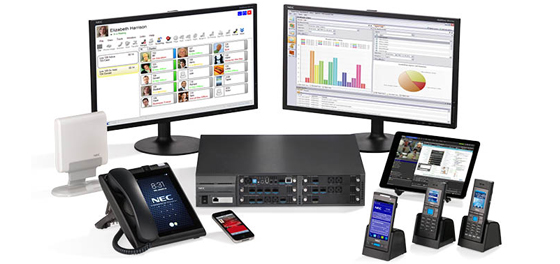 A smart communication server – An office communication in a box. SL1000 is an intelligent cost-effective telecommunication system that is equipped with capability to adapt functions for immediate and emerging business needs.

SL1000 is equipped with rich Built-in functions that improve the employees' communication environment, contributing to save the Total Cost of Ownership.

SL1000 provides Hybrid ports, realizing seamless integration of multiline terminal, single line telephones, facsimiles, and more without complex settings

Increase efficiency by fully utilizing features such as, Conference, Automated Attendant, Call Forwarding and more, in the system for a productive office communication environment.
Key Highlights
IP Telephony
SL1000 is ready with the capability of VoIP (Voice over IP) trend, or for possible change in the future for both H.323 and standard SIP (Session Initiation Protocol) trunks and extensions.
Feature Rich IP Terminal
SL1000 provides 24-key IP terminal, having the same usage as a multiline terminal in the office IP environment. And this IP Terminal can be located out of office as Remote Extension
Web-based Management
The terminal and system setting are easily customizable to suit the user's preference.
Security features
Room Monitoring from Outside (via DISA)
Warning Message
Security with 3rd Party Equipment
Remote Inspection