Seamless but safe venue events
In today's connected, experience-focused world, entertainment expectations are high, and visitors want to enjoy sports events, concerts or theme parks unhindered by queues, crowds and archaic systems. At the same time, threats and anti-social behavior at large venues have persuaded mega-event goers that enjoyment must be underpinned by highly attentive and robust security. So how do competitive venue operators create a seamless but safe venue experience that satisfies their safety, cost and holistic service objectives?

Speed, accuracy and astute visitor analysis are of the essence. NEC's technologies and solutions satisfy all these requirements; offering the cutting-edge technology and the sophisticated AI, video and data analytics to astutely manage, direct and protect individuals.
Sophisticated event video analytics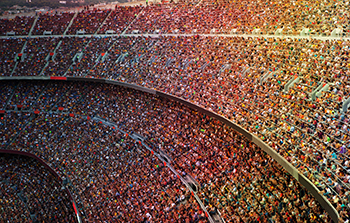 NEC's advanced video analytics and facial recognition solutions offer comprehensive smart visitor monitoring and analysis capabilities on demand and in real time to help venue operators gain a strong situational awareness, and balance venue security, efficiency and customer experience.

Spanning face recognition to crowd behavior detection, even at crowded events, our intelligent solutions can preempt security threats by detecting suspicious individuals, unusual activity or anti-social behavior. The solutions can also manage event staff attendance and productivity, and even control access of suspicious persons posing as staff to confidential areas.

At the same time, information from entry gates can help organizers trace visitor locations and find missing persons quickly, swiftly pinpoint VIPs for express treatment, or offer customized information such as seat guidance to enhance customer experience. Venue and spectator analysis can be channeled into developing smoother operations, safer environments and more satisfying venue entertainment experiences.

For venue operators, the greatest security challenge can often lie in finding a system that provides the speed and accuracy required for large, crowded and often fast-moving events, can be smoothly deployed alongside existing technology in the real world, and can earn customer trust and support.

NEC's technology is the global gold standard in facial recognition, recognized as the most accurate algorithm in the world*.
Digital ID for superior venue experience
Going to watch your favorite band, support your local sports team or spend the day at a theme park should be a fun, hassle-free experience, but the reality is often very different. From ticket problems and security bottlenecks to gridlock at the concession stands, a string of small inconveniences can add up to a major headache that sours customer experience. And that's bad news for venue operators.

NEC's digital ID biometric token provides customers with a seamless experience across all aspects of the venue experience, and provides venue operators with vital data to smooth operations, heighten security, and improve customer satisfaction.

Using face recognition or biometric technologies, customers can easily purchase event tickets on a mobile phone removing the need for a physical ticket. Visitors can be quickly identified at the entrance gates for smooth entrance and shorter lines. Meanwhile, venue operators can prevent forging or scalping of tickets by linking at-gate facial recognition information with purchase information from the ticketing system.

Digital ID also enables organizers to analyze visitor numbers and audience gender and age, provide customized messages and seat guidance, and automatically control access to VIP areas. More broadly, the technologies also help event organizers measure satisfaction levels by monitoring fans' expressions and behavior, tailor their marketing, and improve the choice and smooth operation of future events.

Without a doubt, our digital ID solutions are revolutionizing venue management and analysis by providing safer and more secure event environments, and enhancing the guest experience.
*

NEC ranked No.1 several times as the world's most accurate face recognition technology in vendor tests conducted by the US National Institute of Standards and Technology(NIST).
The evaluation results do not represent recommendations by the US government for specific products.