Integrated Urban Safety Solutions: Tigre City, Argentina
In line with The Program of Cities for People, the city council partnered with NEC in order to foster "safe, vital, sane and healthy cities". With NEC's solutions such as Citizen Collaboration for Security, Licence Plate Analyzer etc., Tigre has emerged to become a Safe City model in Latin America with NEC's public safety platform.
More information:Tigre Case Study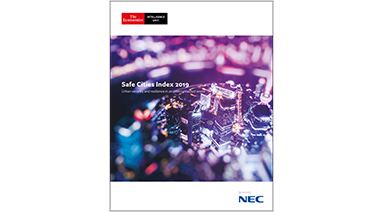 The Safe Cities Index 2019 is a report from The Economist Intelligence Unit, sponsored by NEC Corporation. The report is based on the third iteration of the index, which ranks 60 cities across 57 indicators covering digital security, health security, infrastructure security and personal security.
Explore

Face recognition comes of age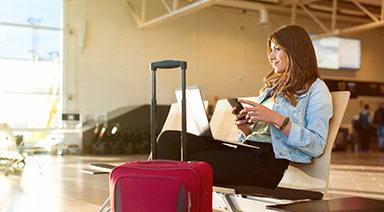 According to the IATA's survey of passengers, border control had the second lowest satisfaction rating of 11 elements of the customer journey, and 65% of passengers would be willing to share additional personal information to speed up processing at the airport.
Biometric services can play a key role in creating a better end-user experience for air passengers.
Seamless Travel with Digital ID
The future of smooth, enjoyable air travel has arrived in the form of Digital ID. See how NEC's Digital ID will reshape the customer experience and enhance our lives from airports and hotels to entertainment venues.
The Future of Aviation with Digital ID
Airports are more congested than ever. To make your travel experience smooth, NEC created Digital ID - a digital biometrics solution that simplifies your journey using the world's most advanced face recognition technology.
Learn how Digital ID can make check-in to boarding process simple, seamless and secure.
Biometrics technology helps passengers relax and enjoy airport facilities, with smooth purchase processes, access to lounges and delivery of personalized information.
Digital Identity: Towards Seamless, Secure and Efficient Air Travel
A digital biometrics solution allows a passenger to securely identify himself to the key stakeholders before, during and even after a trip to the airport to catch a flight.
Taking off with Digital Identity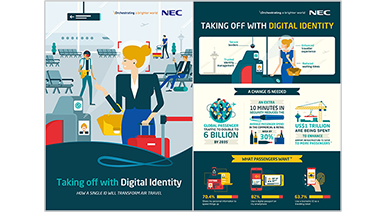 See how a single ID will transform air travel. NEC solutions enable to enhance traveler experience and improve security level & work efficiency at airport.
Infographic Download

The Frictionless Future of Face Recognition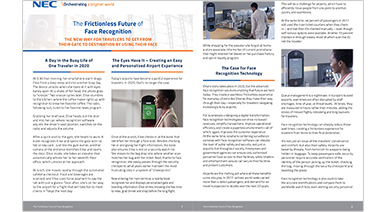 This is a story of the near future in 2020 about the new way for travelers to get from their gate to destination by using their face.
7 Ways Face Recognition Can Unlock A Secure, Frictionless and Personalized Travel Experience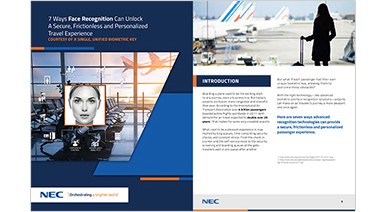 With advanced biometric and face recognition solutions, airports can make an air traveler's journey a more pleasant one. Here are seven ways advanced recognition technologies can provide a secure, frictionless and personalized passenger experience.
Passenger Flow Management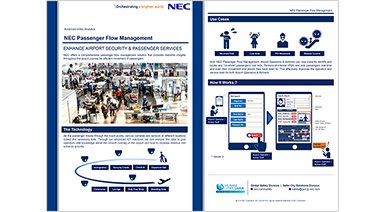 NEC offers a comprehensive passenger flow management solution that provides real-time insights throughout the airport journey for efficient movement of passengers.
SMART AIRPORT OF THE FUTURE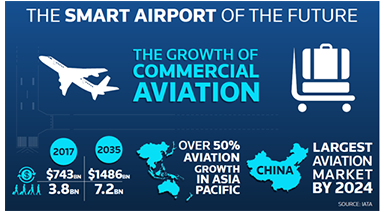 The growth of commercial aviation explained.
THE PASSPORT OF THE FUTURE? YOUR FACE!
Smart use of big data can make a passenger experience faster and more enjoyable. Facial recognition technology streamlines the passenger processing time and stops bottlenecks at checkpoints. Find out how your face may replace your passport.
Information Communication Technology
Why Facial Recognition For Convenience & Personalized Experience?
Learn how face recognition technology helps make the account opening process more convenient for the user, by reducing processing time and manual paperwork.
Face recognition provides users with a safe and secure banking experience, by improving usability and security and contributing to the prevention of spoofing.
Find out how retail payment solutions utilizing face recognition improve user security, accessibility and convenience while also preventing credit fraud.
Bank Security / Customer Experience
Biometric technology helps achieve more efficient, enhanced security while also increasing the overall customer experience.
Enhancing Customer Experience with Secure Digital Identity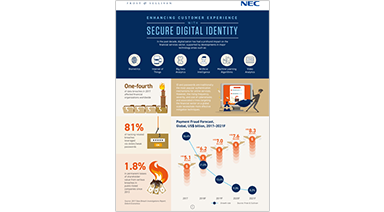 Digital identity plays a central role in the finance industry by forging personalized customer experience and combining ease-of-use and accessibility with security, privacy and control of consumer data. This InfoBrief emphasizes the importance of being human-centric instead of being techno-centric in the context of financial services landscape.
Seamless Travel with Digital ID
The future of smooth, enjoyable air travel has arrived in the form of Digital ID. See how NEC's Digital ID will reshape the customer experience and enhance our lives from airports and hotels to entertainment venues.
See how face recognition technologies help improve the event ticketing purchase process, as well as prevent ticket forgery and scalping for smooth and secure event entrance.
Learn how biometrics technology can prevent potential threats and incidents, improving venue security and creating a safe and secure environment.
Finding a Face in a Crowded Arena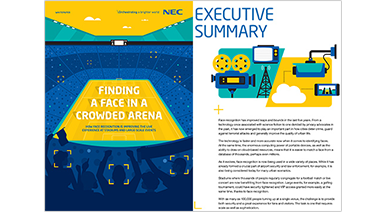 Discover how face recognition is improving the live experience at stadiums and large-scale events.
NEC's facial technology creates seamless customer experiences
Your face is now your game ticket, wallet, loyalty card and more. Find out how the world's most accurate facial recognition technology is changing the game for fans and customers.
Face Recognition demo at LPGA ANA Inspiration
NEC demonstrated Face Recognition Technology, NeoFace, at LPGA ANA Inspiration in Rancho Mirage, CA, USA. This is LPGA's first major tournament and the number of attendees are increasing year by year.
With media coverage also increasing, credential management has become a key factor in the overall venue infrastructure.
In addition, it's important to secure the safety of both attendees and golf players for the organizer.
Watch how NEC's NeoFace has greatly increased the user experience all while providing an expanded level of safety and security.
NEC is a global leader in biometric identification technologies, supplying more than 700 systems in over 70 countries. In addtion, our Face Recognition technology is ranked the world's No.1 by NIST, US governmental agency test.
See how it is deployed around the world such as immigration control system at JFK Airport and realize safety and secutiry for society.
NEC's NeoFace Watch delivers face recognition solutions with speed, accuracy and performance. It is the fastest and most accurate face matching technology (biometrics) under all conditions, including matching poor resolution facial images as low as 24 pixels. Bring non-intrusive, real-time monitoring to fight crimes and build safety for the people.
More information:Face Recognition