Safe, secure, fair services
Today's advanced data-driven era offers universal access to services and infinite opportunities for personal and economic growth. But it also propels security to the top of priority list for governments tasked with ensuring real and digital services are accessed safely, equally and efficiently, with minimal risk of identity theft, fraud or security breach.

NEC has developed the world's most accurate biometric authentication technology* that, together with our intelligent analytics and systems integration capability, enables the swift delivery of reliable identity verification solutions and urban infrastructure surveillance. Also, civil ID and digital ID management solutions that provide citizens with a secure proof of identity to help them access public and private services fairly and conveniently.
NEC leverages its world-leading facial recognition and biometric authentication technology suite to reduce serious fraud risks for governments and private enterprises, and open the doors for the vast majority of global citizens without an irrefutable form of ID to a wealth of public and private services for more satisfying, safer daily living.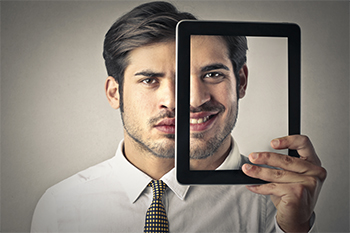 NEC's Digital ID solution applies our highly advanced biometric authentication technologies to create a single digital identity for individuals derived from their physical identity.

Just as in the real world we have one non-transferrable, non-imitable physical self, creating an equally definitive and indisputable identity for the digital world offers huge advantages for both citizens and governments. NEC's expert use of biometrics technology to authenticate a user's physical identity provides an extra layer of protection for cautious individuals who no longer want to rely on usernames and passwords alone to gain access to digital services and experiences. Meanwhile, the same Digital ID solution range is helping governments and enterprises reduce the incidence of fraud and identity theft, ensure all citizens enjoy equal access to services and benefits regardless of physical location and accessibility, and improve customer experience and long-term loyalty and trust.
One immediately effective use of our Digital ID solutions is in making driving licenses more secure and preventing illegal issuance or fraud.

In many countries and real-life situations, a driver license not only secures the holder the right to drive a vehicle, but serves as a de facto form of identification. NEC's suite of biometric technologies enables governments and road traffic authorities to create a secure identity management system by authenticating the identity of each license holder thereby fighting identity fraud.
Carved from five decades of world-leading biometric authentication research and implementation, NEC's Digital ID solutions are already extending our secure digital experience in many fields. Enabling citizens to access today's vast range of digital devices and interactions securely, conveniently and with peace of mind. Encouraging governments to extend their security focus to include optimizing customer experience for greater speed, accuracy, and competitiveness.
Our National ID solution capitalizes on NEC's world-leading multi-modal biometrics identification technology to provide high-speed, highly scalable and accurate end-to-end systems for reliable identity management systems.

Robust and secure civil identity solutions can help governments build fair and efficient ID management systems that reduce the incidence of identity fraud and legal infringement, and better protect their citizens' identity, so they can concentrate on providing equal accessible services to all.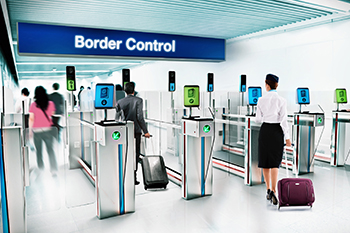 NEC's tried and tested border control solutions use multi-modal biometric authentication to facilitate the efficient and accurate operation of border checkpoints, so that border officials can both fortify national security against illegal entry and terrorist threats, and swiftly process the entry and exit of ever increasing numbers of global travelers, migrants seeking greater opportunities, and businesspeople seeking new markets outside their base country.

Serving all land, sea and airport checkpoints, our biometrics-driven border control solutions seek to improve operational efficiency through automation and heighten security by introducing accurate and reliable biometric authentication and verification systems, such a face recognition and fingerprint identification.

Our systems are individually tailored to help balance the often-opposing needs of watertight security and efficiency at border entry and exit points, and ensure a safe and seamless travel experience for passengers.
Our cities are hubs of smart, vibrant economic activity and experience, but the urban security challenges and public safety considerations they face intensify as their populations rise.

NEC's urban surveillance solutions provide a platform for urban operators to collect and analyze information from multiple sources, such as videos, panic buttons, emergency calls, and social networks. The solutions help operators make swift, well-informed decisions, follow standard operating procedures, recognize and respond to people in distress or need, and protect against crime by creating crime maps of registered cases, and offering round-the-clock, real-time surveillance.

The extensive application of our suite of video analytics and real-time crowd behavior analysis has been repeatedly proven to enhance the safety and security of urban residents and institutions around the globe, protecting cities from physical and cyber threats, disruption and natural disasters, and encouraging flourishing environments.
*

NEC ranked No.1 several times as the world's most accurate face recognition technology in vendor tests conducted by the US National Institute of Standards and Technology(NIST).
The evaluation results do not represent recommendations by the US government for specific products.