Secure, visible and efficient critical infrastructure
Airports, mass transit systems, power plants, telecommunication exchanges, water supply facilities. These pieces of critical infrastructure are all vital to the running of today's smart cities. And they all require round-the-clock, intelligent real-time monitoring to ensure efficient operation, minimize disruption from equipment investigations or outages, and shield against malicious physical intrusion or cyberattack.

NEC's integrated suite of advanced video analytics and multi-modal biometrics is designed to provide robust identification and access management for critical infrastructure across broad solution areas: real-time surveillance using the world's most accurate face recognition technology* and AI-driven video analytics; and behavior analysis for early detection of suspicious activity, abandoned objects or people requiring assistance.
Optimizing Secure and Efficient Surveillance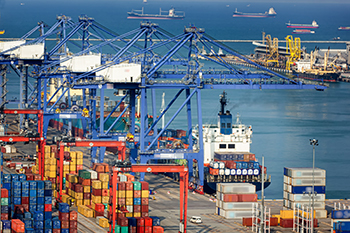 While NEC's surveillance focuses primarily on providing robust round-the-clock protection for critical infrastructure, it also seeks to support the safe, efficient and productive running of vital city facilities by optimizing their identification and access management systems.

Our integrated solution comprises biometrics and advanced video analytics that visualize human behavior, detect wanted and unwanted individuals, safeguard restricted premises, and translate data into insights in real time to support informed decisions.

The beauty of our surveillance system is that it uses recognized world-leading face recognition, fingerprint, palm, iris authentication and video surveillance and analytics to provide a unified view for all stakeholders from operating managers to employees, and visitors.

Face recognition, video surveillance and analytics secures greater safety and efficiency for employees and managers by detecting potential threats, anomalies and intruders in the workplace and facilitating smoother access, movement, and use of assets. Video analytics enhances the safety and experience of customers and visitors by securing public areas and tracking customer visits from entry to exit.

By extensively applying biometrics and video analytics in this way, NEC's critical infrastructure surveillance system creates a water-tight security wall that keeps harmful threats at bay without hindering the efficiency and enjoyment of those who work within.
*

NEC ranked No.1 several times as the world's most accurate face recognition technology in vendor tests conducted by the US National Institute of Standards and Technology(NIST).
The evaluation results do not represent recommendations by the US government for specific products.