Transforming the Way We Fly


Safe, seamless experience from curb to gate
Travelling in the new era will require seamless experience be coupled with higher safety needs. Airports will have to ensure a smooth flow of passengers to prevent overcrowding, conducting checks and maintaining hygiene in the process.

However, according to an IATA study in 2020, only 43% of passengers were willing to take a temperature checkⅰ so this process has to be intuitive and unintrusive. The same applies for identifying passengers who wear face masks, a practice that 67%ⅱ of respondents have done in public.

A touchless experience is thus important to smoothen this process, so that hygiene is maintained and a journey is safe and seamless. Digital ID utilizing biometrics will be critical to this new air travel experience.

Thermography scans help identify those with elevated temperatures so passengers with normal conditions can quickly and seamlessly travel with ease. NEC's advanced face recognition can assist in identifying travelers who may have a mask on, while enabling them to breeze through checkpoints and transact in a safe, contactless manner.
*

Understandably, some passengers may not wish or be able to use biometric authentication. They can still choose the traditional process for such checks.

New biometric technology creates a safer, more hygienic and seamless airport experience for passengers and enables a fast, hassle-free journey from curb to gate.

86% of travelers are concerned about catching a virus while travelling, according to an IATA study in 2020
ⅰ
. Passengers will increasingly desire a safer, comfortable experience when selecting an airline and airport.

More intuitive, frictionless interactions will be normal and expected in the future, as people fly once again. Autonomous systems will "know" travelers better and deliver an enhanced experience while requiring less contact and human intervention.
[1] Effortless Check-In and Bag Drop
Speeds up check-in by eliminating manual ID and boarding pass verification
Increases in-terminal time for passengers to shop and dine
Lowers the need for on-site airline staff
Results in faster-moving lines and a rapid check-in experience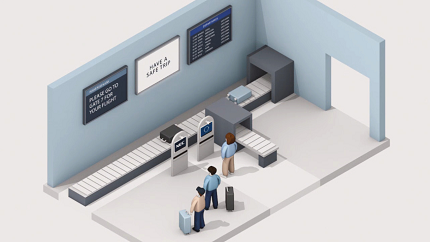 [2] Intelligent and Customized Displays
Customizes the end-user experience for face-registered loyalty program members based on past purchasing history
Personalizes advertisements and product displays based on the age and gender of the traveler
Creates a unique and hassle-free shopping experience for each passenger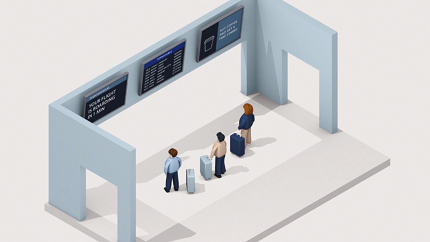 Allows customers to dine, shop, and relax before it is time to board their flight
Provides a faster, more secure, and personalized experience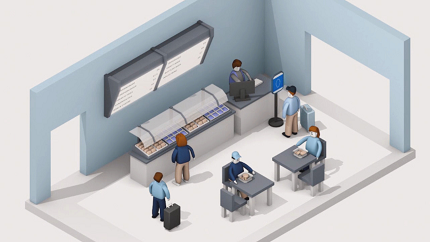 [4] Personalized Lounge Experience
Automatically identifies and admits VIP travelers
Provides VIP travelers with a personalized welcome and up-to-date gate and flight information
Enables airlines to monitor individual preferences of their VIP travelers to provide a unique customer experience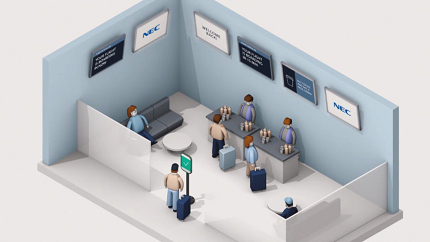 Eliminates the need for manual passport checks by providing biometric immigration processing
Requires fewer agents to handle high passenger volumes
Reduces waiting times and streamlines the immigration process through fast and accurate identification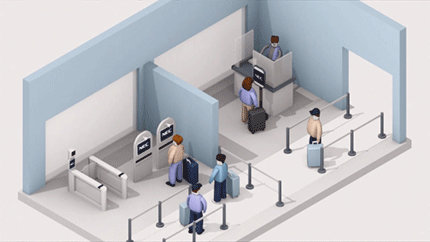 [6] Simple, Frictionless Boarding
Automates the boarding process, leading to efficient passenger boarding and more on-time departures
Eliminates the need for boarding passes, resulting in cost and waste reductions Confirms traveler identities in less than two seconds
Ensures ticket and ticket holder identities match without requiring another manual ID check
Allows passengers to get to their seats faster with less hassles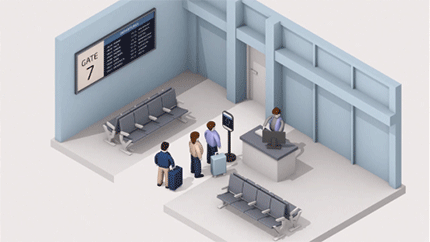 [7] Biometric Flight Manifest
Adds biometric data to traditional flight manifests for enhanced security
Provides on-demand access to reliable biometric data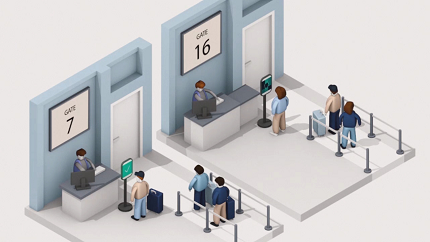 Creating a seamless customer journey with Star Alliance Biometrics, powered by NEC I:Delight