Top Message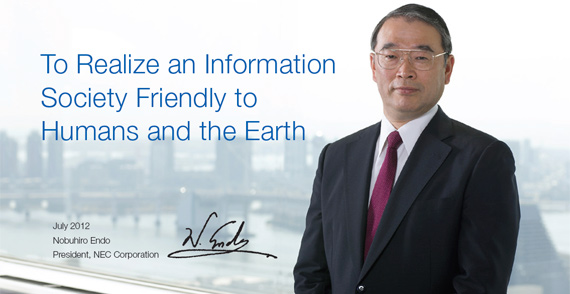 In recent years, we have seen global issues become increasingly serious. Examples include tightening supplies of food and other resources in step with population growth, and the onset of global warming. Looking more closely at the food problem, although global food production must be increased 1.7-fold by the year 2050, when the world's population is projected to surpass 9 billion, some estimates show that roughly one-third of the world's current food production is either disposed of or lost.
To efficiently utilize the earth's finite resources that are vital to our daily lives, such as energy, water and food, we must develop smart social infrastructure that fully harnesses the power of information and communications technology (ICT).
Under the NEC Group Vision 2017, we aspire "to be a leading global company leveraging the power of innovation to realize an information society friendly to humans and the earth." To realize this vision, while constantly remaining highly aware of the need to solve issues on a global scale, we intend to provide new forms of value to customers, guided by the basic perspectives of being "friendly to humans" and "friendly to the earth."
Main Initiatives in Fiscal 2012
In fiscal 2012, NEC focused on three key initiatives:
(1) Focus on the "C&C Cloud Strategy," (2) Expand global business, and (3) Create new business. We made significant strides on each front.
Looking at the first initiative, focus on the "C&C Cloud Strategy," we delivered solutions to numerous customers in fiscal 2012. These solutions leveraged our strengths in providing total end-to-end cloud-based solutions, making the most of a distinctive feature of NEC—our ability to provide everything from services to platforms and terminals.
For example, we provided a unified communication system as a cloud-based service for Ishigaki City and Taketomi Town in Okinawa Prefecture. This system supports teleconsultation and information sharing with respect to a host of topics such as community life, education, child raising, and healthcare. Through this system, NEC helped to solve various issues related to the provision of public services for residents, given the geographical factors of this locality, where residents are spread out across different villages on multiple islands.
Next is our initiative to expand global business. Led by regional headquarters established in five key overseas regions, namely North America, Latin America EMEA(Europe, Middle East, and Africa), Greater China, and APAC (Asia Pacific), NEC provided a broad range of network equipment, cloud-based services, and public safety systems, among other products and services. In South America, the local authorities in Brasilia, the capital of Brazil, have expanded their use of the NEC Automated Fingerprint Identification System (AFIS), which boasts the world's highest matching accuracy of more than 99.9%.
This has enabled the Institute of Identification of the Civil Police of the Federal District to issue civil identity documents accurately and efficiently to even more people. This technology has been adopted by the police forces, judicial agencies and immigration control authorities of more than 30 countries around the world. In addition to enabling rapid and efficient public services, the technology has also proven useful in criminal investigations. It has thus made an immense contribution to building safe, secure and highly user-friendly social infrastructure systems.
Finally, looking at our initiatives to create new business, we strove to expand the energy business, centered on storage batteries. With the aim of developing sustainable social infrastructure that can both utilize energy efficiently and tackle global warming, we developed smart energy solutions combining energy storage systems, energy management systems (EMS) and electric vehicle (EV) charging infrastructure. In addition to these solutions, we made progress on one of our long-standing priorities—developing energy-efficient equipment. Here, we actively upgraded and expanded our range of eco-friendly products.
One highlight was the development of a server that can operate at a high temperature of 40°C, which will contribute tremendously to power conservation at data centers.
Supporting the Recovery From the Great East Japan Earthquake
NEC is committed to supporting the recovery from the Great East Japan Earthquake. Our assistance began immediately after the earthquake struck. We have provided extensive support, ranging from restoration of infrastructure to a wide array of assistance utilizing ICT systems and cloud-based services. In addition, we have continued to implement various social contribution activities, including volunteer programs by employees in the affected regions. Various efforts are also under way to help revitalize the affected regions and develop new towns. For example, using digital terrestrial television, we provided a system that facilitates communication among residents living in temporary housing shelters.
Striving to Make a Larger Contribution to Customers and Society
In fiscal 2012, NEC was unable to deliver satisfactory business results amid the continuation of a challenging business environment shaped by the flooding in Thailand, the yen's historic appreciation and other developments.
In light of these conditions, we are restructuring challenged business areas, to ensure that we generate stable profits based on the current level of sales. These measures are directed at transforming NEC into a profitable enterprise.
Specifically, while promoting cost reductions through restructuring, NEC will focus on four businesses where it is strong, namely the IT Services, Carrier Network, and Social Infrastructure businesses in addition to the Energy business. Through this approach, we aim to lay a solid foundation for future growth.
In fiscal 2013, we intend to focus business execution on three priorities: "CS No.1," "Global First," and "One NEC." Let's look at "CS No.1" first. We will reaffirm the fact that the activities of every employee, irrespective of business division, always have a bearing on customer satisfaction (CS), as we constantly endeavor to make improvements in this area. We will constantly aim for "Better Products, Better Services" by striving to create new forms of value through innovation focused on the customer. We will continue to make every effort to deliver customer satisfaction.
Next is "Global First." We must constantly review our activities from a global perspective. We will strive to improve our activities to the level where they are positively recognized on a global level.
Finally, the third priority is "One NEC." Every member of the NEC Group will do their utmost to deliver customer satisfaction through the creation of new value across the boundaries of Group companies and business divisions.
The goal is to contribute to the markets with all our assets and maximize the corporate value of NEC.
CSR-Driven Management at NEC
NEC has been a signatory to the United Nations Global Compact (UNGC) since 2005. We have been working not only to uphold the universal principles of the UNGC within the Group, but also to step up the extension of the principles to the suppliers that make up our supply chains.
These principles concern issues such as human rights, labor standards, environmental protection and anti-corruption measures. In fiscal 2012, we continued to implement a Stakeholder Review based on the ISO 26000 international standard for social responsibility. This review provides the basis for CSR-driven management at NEC. The results of the review can be found in the "Stakeholder Review" section of this report.
Looking ahead, the NEC Group will remain focused on its goal of becoming an enterprise that is admired by customers.
To this end, we will continue to create new forms of value by listening earnestly to the requests and expectations of all stakeholders, while staying attuned to changes in society's values and signs of emerging issues.
We look forward to your continued understanding and support as we endeavor to reach our goals.