Vol.8 No.3(July 2014) Special Issue on Social Value Design - Contributing to Social Value Innovations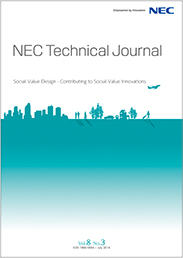 Vol.8 No.3 (July, 2014)
The NEC Group is promoting the pursuit of Social Value Design as our approach to realizing the creation of value for society. NEC's Social Value Design is studied from the two perspectives of the "User Experience" and the "Social Experience," and is the concept of the providing society and our business customers with new value created through innovation.
This special issue introduces the NEC Group's approach to Social Value Design from the perspective of "Basic Promotion Activities" and "Practical Application Promotion Activities," examines the methodologies for analysis of the results of projects that employ Human-Centered Design and Design Thinking principles, and provides an overall picture of our activities including the building of an organizational structure in accordance with analyses, the fostering of human resources and other policy and action.
Special Issue on Solving Social Issues Through Business Activities
Remarks for Special Issue on Social Value Design - Contributing to Social Value Innovations
YASUI Junji Senior Executive Vice President and Member of the Board
---
NEC Group's Approach to Social Value Design
NISHIKAWA Masahiro
NEC's Group Vision 2017 sets forth the aim of our company: "To be a leading global company leveraging the power of innovation to realize an information society friendly to humans and the earth," and guided by this vision, we are becoming a social value innovator in the business domain of "Solutions for Society." NEC's Social Value Design is studied from the two perspectives of the "User Experience" and the "Social Experience," and is the concept of the providing society and our business customers with new value created through innovation. At NEC, we are tackling the application of human-centered design (HCD) and Design Thinking on a Group-wide basis with the aim of promoting adoption of Social Value Design in our products and services.
---
Design Thinking and Human-Centered Design - Solution-Based Approaches to Innovation and Problem-Solving in Social Environment
YAMAZAKI Kazuhiko
Design Thinking is widely regarded as critical for companies committed to building a more creative and innovative company culture. Two components are key to this new approach - Design Thinking and Social-Centered Design (SCD), which are both built on and derived from human-centered design (HCD). In HCD-based Design Thinking, the focus is on a more collaborative and iterative style that combines creative design approaches to generate empathic, human-centered innovation processes. One aspect that is of particular importance to this approach is reframing from the perspective of user experience (UX). Moving from the individual user's perspective to that of the social environment as a whole, SCD retains the HCD while applying it to the broader social environment in which the user lives and functions. In this context, social environment business models and social experience (SX) play an integral role.
In this paper, we will look at how SCD fits into the overall concept of Design Thinking and how these concepts can be integrated into corporate culture and innovation processes to create a more dynamic, forward-thinking, and socially aware company optimally positioned to meet the needs of its customers.
---
Technologies, techniques and processes for the implementation of Social Value Design
"Design Thinking" To Create Innovations
HIROSE Toshihisa, NISHIKAWA Masahiro, KOHNO Izumi, YASU Hiroko
In the era of "from things to events," the desired design functions are shifting significantly. In addition to traditional designs implemented via colors and shapes, designs are now expected to extract essential value both for society and for individuals and to contribute to the creation of products based on innovative ideas as well as new visions for the future society. The methods and processes of "Design Thinking" are effectively creating such innovations. NEC is actively promoting Social Value Designs for the creation of innovations via practice projects for adding original methods to Design Thinking.
---
Collaborative UX Design Methods for Developing Social Solutions
YASU Hiroko, IWATA Naoko, YAMAZAKI Aya, KOHNO Izumi
This paper introduces NEC's collaborative UX design methods, which allow people with their own knowledge and experience in technologies/operations and in analysis of human behavior and psychology to finely proceed with step-by-step engagement. They can share and empathize User Experiences in order to complement one another's expertise and skills. Therefore, new value can be created in society and in our customers' businesses by using human-centered design (HCD) and Design Thinking in the field of social solutions.
---
Process Support Method for Improved User Experience
TANIKAWA Yukiko, OKUBO Ryosuke, FUKUZUMI Shinichi
Usability has recently been increasing in importance for business information systems. In response to this trend, NEC is developing a software engineer support method to enable the efficient development of systems with higher usability. The support method is being developed with the viewpoint that it is important to clarify usability-related customer needs during upstream processes of system development. This method consists of a procedure for deriving usability-related customer needs from the properties of the target system's users and tasks and connecting them to usability requirements. The verification experiments of this method succeeded in recognizing the validity of the output requirements and the effectiveness of the method. This paper introduces this method for supporting the clarification of customer needs.
---
UX Improvement Framework for Large-Scale System Development
MORIGUCHI Masakazu, NODA Hisashi, KINOSHITA Tomomi, OOKAWA Hiroyuki
Having realized the value of the UX (User Experience) that our customers can gain through our products and services, we at NEC have been developing new methodologies to enable users to apply their experiences to large-scale, advanced social solution systems while providing on-site support. As a result, we have achieved significantly improved operability and sophisticated quality, enabling us to offer products and services that can satisfy our customers. This paper discusses the UX improvement framework that has been created through this effort.
---
Using Agile Software Development Methods to Support Human-Centered Design
NAKAO Yusuke, MORIGUCHI Masakazu, NODA Hisashi
In recent SI/software development, the concept of user experience (UX) that enhances experience values from the user's viewpoint has been increasing in importance. An effective means of improving "User Experience" is by applying human-centered design (HCD) as specified in the international standard ISO9241-210. In repeating HCD processes, interest is increasing in the use of Agile Software Development, which flexibly enables the required additions and priority changes to be added at the development stage. This paper describes how Agile Software Development methods may be used when carrying out HCD. The case of a smart device application development project is considered as an example.
---
Social experience
A Co-creative Project "Vision 2030" for Tigre, Argentina
KAMATA Maiko, HARADA Takashi, YAMAOKA Kazuhiko
OSADA Junichi, Osvaldo KAWAKITA
The C&C Innovation Initiative of NEC Central Research Laboratories interconnects our technologies with customer values, and then promotes the development of innovative technologies and the creation of business opportunities. In collaboration with the City of Tigre, Argentina, the C&C Innovation Initiative has created a vision for the city that outlines the social values to be provided for its citizens by the year 2030.
---
Activity Promotion System for Saving Energy Aimed at Improving Society and the Environment
TANAKA Rie, DOI Shinichi, KONISHI Taku
This paper introduces the development of the "Activity Promotion System for Saving Energy" aimed at improving society and the environment, as well as demonstrative experiments undertaken at Kansai Science City in Japan and Skellefteå in Sweden, as case studies in Social Value Design activities. By incorporating the psychological factors found through psychological studies into the Activity Visualization Methods, the presence of an Activity Promotion Effect was confirmed in the experiments undertaken at both cities. Moreover, we also confirmed that there are common psychological factors considered important in both Japan and Sweden, and that among those there were differences in the degree of importance attributed to certain factors due to differences in culture and institutions.
---
Qualitative Research that Confirms the Need to Create Communities in the Aging Society
YAMAGUCHI Tomoharu, SAKAO Yosuke, SASAMA Ryohei, FUJITA Yoshihiro
We are now in the era of a rapidly progressing low birth rate and an aging society. The increasing seriousness of this trend is creating an unavoidable problem for future generations. The image of elderly people that we used to have was of people that needed assistance from surrounding people. However, this concept is changing. In the future, the number of so-called "fit and healthy elderly people" will tend to increase. In such a super-aging society, it is expected to create supportive Information and Communication Technology (ICT) solutions which are relevant to this issue. In order to achieve it, it is essential to define certain issues that derive from the developing needs of elderly with the diversified and complex situation . Below, we define our approach to this task and introduce the impact and effectiveness acquired from repetitive Qualitative Surveys and Field Trials.
---
Design and Development of the Smart Mobile Cloud (SMC) - a Cloud Computing Service Platform based on Design Thinking Methodology
MATSUNAGA Keiko, HADA Toru, NAKAYAMA Yoshitaro
YASU Hiroko, IWATA Naoko, SAKAI Akira
The Smart Mobile Cloud (SMC) is a cloud computing service platform. It allows service providers (companies that provide their services via a cloud computing service platform) to launch high quality and equal services more quickly, as well as with less cost. By employing the processes and methods of Design Thinking and human-centered design (HCD) in designing and developing the SMC, it has become possible to provide a service platform that enriches our everyday lives.
---
Developing Convenience Store ATMs as Social Infrastructure
OHTA Tomomi, MATSUDA Takashi, MURATA Noriyoshi
HINAGO Naotaka, FUJITA Shigeki
The multi-function compact ATM (Automated Teller Machine) co-developed by the NEC Group in cooperation with Seven Bank, Ltd. is designed to function as an integral part of a new-style infrastructure that facilitates a variety of contemporary lifestyles. It provides people with access to ATMs in their neighborhood 24 hours a day, while offering a friendlier User Experience and enhanced ease of use for more people. This paper discusses our comprehensive commitment to social value design that ranges from the evolution of user interfaces (improved display content and interface, compliance with Color Universal Design, and improved receipt printouts, etc.) for convenience store ATMs and the provision of services without delay to the improvement of functions that support social values such as ecology and globalization.
---
User Interface (UI) Standardization Activities for Sure and Efficient Communications Networks Administration
NIHEI Morihiro, HORIGUCHI Eiji, SATO Hiroyuki
The operation systems supporting communications networks as social infrastructures are required to maintain service quality and improve job efficiency, and the interface between the system and the administrator, called the user interface (UI), is an important factor for implementing these needs. The NEC Group has recently held an exercise to promote UI standardization with the aim of providing consistency between products. This paper describes the process, techniques and results of this activity.
---
HI Design Guidelines for Secure and Efficient Air Traffic Control Operations
IKEGAMI Teruya, KATAOKA Hisanao
An air traffic control system is an essential component of today's social infrastructure, providing aeronautical information to the air traffic controllers who support secure and efficient aircraft flight management. For secure and efficient air traffic control system operations, usability is one very important factor. NEC has developed HI (Human Interface) design guidelines to be employed for requirements definition in developing air traffic control systems, along with screen design, in order to unify their human interface. This has also resulted in other related system design developments that support secure and efficient air traffic control operations. This paper introduces our challenges in developing these guidelines.
---
Development and Practical Applications of Color Combinations Evaluation Method for Human Error Reduction
IKEGAMI Teruya, TANIKAWA Yukiko
In recent years, providing countermeasures to human error has become increasingly important among business operation systems. This trend is especially significant in the fields of aerospace and medical treatment, in which social solutions with high security and reliability are essential. We have developed a Color Combinations Evaluation Method to reduce human error and have applied it to an air traffic control system. This method quantifies three requirements for color combinations that are effective in reducing human error: "Harmony," "Visual attention of important information" and "Fatigue of eyes." It also quantifies "user's perceptual load" that users might receive from color combinations. Developers can determine the optimal color combinations based on calculated value. This paper introduces the Color Combinations Evaluation Method and its practical applications.
---
User experience
Human-Centered Design Activities in the Development of Smart Device Applications
NAKAO Yusuke, MATSUSHIMA Hidenaga, MORIGUCHI Masakazu, NODA Hisashi
In order that business styles may be changed and business productivity may be improved through the utilization of smart devices in business operations, the concept of user experience (UX) is important. Smart devices have to offer the value of the experience that makes a user in the field feel that he/she wants to use them even though they may change his/her familiar business style. After having taken notice of facility and equipment inspection as a promising area for the utilization of smart devices, we have developed applications through the practice of human-centered design (HCD) to ensure the effectiveness of smart devices. This paper discusses HCD in the development of smart device applications for facility and equipment inspection.
---
Development of DCMSTORE-POS, a POS System for Mass Retailers Based on Human-Centered Design
TSUKIDA Ichiro, KINOSHITA Tomomi, YAMAMOTO Masaya
ITANI Tadashi, ISHIHARA Rumi, YAMAMOTO Masahiro
DCMSTORE-POS is a POS system for mass retailers such as food supermarkets. Previous POS systems have faced challenges with issues reported by customers such as "old-fashioned display" and "bad reputation on usability with field workers." To solve these problems, the authors attempted to identify issues, analyze workflow, evaluate the results and exchange opinions by organizing a project that includes usability specialists as well as planners, sales engineers and developers who observe the field of use of POS systems. As a result, the authors succeeded in developing a new system that can satisfy both users and managers through a display with easily viewable colors, legible characters and improved operating efficiency thanks to a reduced number of control steps.
---
Applying Human-Centered Design (HCD) Solutions in Industrial Machinery Products Manufacturing
TERAKADO Yoshiaki
The development of multi-featured, high value-added industrial machinery products is essential in the current severe market environment. Under this circumstance, NEC is offering development support consultation services based on our human-centered design (HCD) expertise. Development supports of Customer Orientation and of Design Thinking that are based on HCD allow us to help our customers to improve the usability of their products as well as to increase customer satisfaction, reduce costs, and enhance corporate value. These goals are achieved by contributing to competitive superiority in the market and by enabling customers to create products that are user and society-friendly.
---
Development of Easy-To-Use Self-Service Terminal UI for Filling Stations
ABE Hiroyuki, MOCHIMARU Atsushi, TAKASHIMA Atsunori
MATSUSHITA Toru, INAFUNE Masaya, OZAWA Naoki
In recent years there has been major growth in the number of Self-Service Terminals installed at filling stations. The "easy to understand, easy to use" aspect of these widespread terminals is important not only for the user but also from the vantage point of the filling station proprietor due to its key role in increasing sales and streamlining business efficiency. For this reason, we have developed a new UI (User Interface) that gives top priority to user-friendliness while addressing the needs of business proprietors and station attendants, drawing upon the expertise of HCD (Human-Centered Design) specialists including workflow analysis, verification and evaluation.
---
Development of Multifunctional Business Phone by Applying Social Value Design
TANIGUCHI Eiichi, TOKUNAGA Mitsuhiro, SHIBATA Yuichiro
NAGAI Kazuki, SATO Masayoshi, MATSUDA Takashi
To meet expected social demand, NEC and NEC Infrontia are in the midst of product development for a business-use multifunctional telephone employing the concept of Social Value Design. This "Social Value Design" is the concept that draws upon Human-Centered Design and Design Thinking to create new innovations while balancing the perspectives of people (User Experience) and society (Social Experience). This paper introduces a specific case in which Social Value Design was achieved during the development of an actual multifunctional business phone.
---
NEC Group Commitment to Web Accessibility
YASU Hiroko, INAFUNE Masaya, KAWASHIMA Kazuhiro
TANAKA Shigeko, YANO Shunji, NISHIKAWA Masahiro
The NEC corporate website is our official site that transmits our corporate and product information for Japan. Since it was launched in the late 1990s, we have endeavored to address accessibility based on the web strategies that we have developed in line with the new technologies. This paper introduces our commitment to ensuring and improving accessibility to the NEC official website, including the preparation of guidelines, accessibility training, and improvements to the website administration structure.
---
NEC Group's Approach to Social Value Design
Social Value Design Promotion Activities in NEC
KOHNO Izumi, NISHIKAWA Masahiro, FUKUMOTO Takaya
OZAWA Naoki, MATSUDA Takashi
Activities to promote Social Value Design in an enterprise consist of (1) the planning and development of products and services, (2) analysis of the effects of human-centered design (HCD) in activities and case implementation, (3) standardization of user interface (UI) and appearance and development of standard processes, (4) human resource cultivation and education and (5) organizational arrangement. In this paper, the authors report on the activities related to the effect analysis and case implementation that are effective to make NEC employees recognize the necessity of HCD. In this paper, the in-house effects of HCD activities include contributing to sales and improving development efficiency and quality and the effect for the benefit of customers is improved job efficiency. In addition, this paper also clarifies the effects of the NEC Group's in-house HCD enforcement project. The results of the analysis were posted on our intranet site and utilized it in education to enhance understanding of HCD and the will to undertake related endeavors throughout the entire Group.
---