NEC Technical Journal
Through a well-balanced mix of technical papers, easy-to-understand articles about technological trends, and case studies, NEC Technical Journal introduces its readers to all the latest technologies, products, and solutions from the NEC Group.

Please note that it is not available in a print format.


Latest issue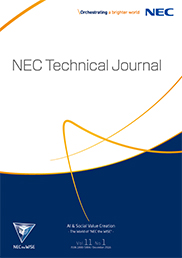 Vol. 11 No. 1 (December 2016) Special Issue on AI & Social Value Creation

This special issue introduces our activities in creating social value with NEC's AI platforms, our vision for social solutions, and the broad range of AI technologies that support their realization. Also in special interview with an NEC researcher and his counterpart in a large-scale collaboration project pursued by NEC in the field of AI, you will get a peek at our vision of the technology that will drive our future solutions.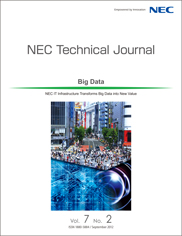 Vol.7 No.2 Special Issue on Big Data

This special issue introduces NEC's information collection platforms, large-volume data processing platforms, analysis technologies, and other Big Data technologies, products and solutions that enhance the business environment of our customers with new value.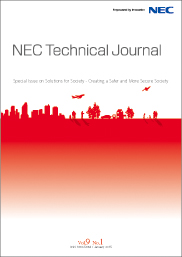 Vol.8 No.1 Special Issue on Solving Social Issues Through Business Activities

This special issue, entitled "Solving Social Issues Through Business Activities," introduces NEC's business activities, products, technologies and services in connection with our endeavors for becoming a "Social Value Innovator," based on the above 4 initiatives.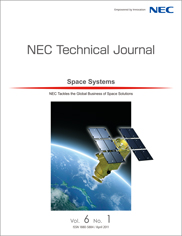 Vol.6 No.1
Special Issue on Space Systems

This special issue will describe our vision for NEC's space system business, our roadmap to its achievement, and details of the activities and programs that will lead us to our destination.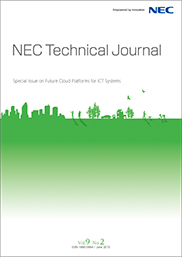 Vol.9 No.2
Special Issue on Future Cloud Platforms for ICT Systems

This special issue introduces "NEC Cloud IaaS," the lineup of products that comprise our services, the latest technology from our research laboratories and a few customer case studies.

The History of NEC Technical Journal
The story of the NEC Technical Journal dates back to May 1902 when, shortly after NEC was founded, we published the first edition of its forebear, a monthly PR magazine entitled Nippon Denki Geppo (Nippon Electric Monthly).

NEC Technical Journal by Theme
Technologies related to the seven themes for social value creation, to which NEC is committed, are introduced through feature articles and papers in NEC Technical Journal.




Looking Back at NEC's History
Here you can explore the history and achievements of NEC through articles that dig through past issues of NEC Technical Journal while focusing on themes that are relevant today.



For inquiries about NEC Technical Journal
Inquiries: NEC Management Partner, Ltd. (former NEC Design & Promotion, Ltd.)