Corporate Governance at NEC India

Basic Corporate Governance Policy
In recognition of the fact that reliable corporate governance is essential to the maximization of corporate value, which embodies the company's value for all its stakeholders, including shareholders, customers and employees, NEC is committed to strengthening its corporate governance practices through:
Assurance of transparent and sound management;
Realization of prompt decision-making and business execution;
Clarification of accountability; and
Timely, appropriate and fair disclosure of information.
---
NEC will strive to regularly examine governance structures best suited to the company in line with changes in social conditions, laws, and other developments, and to conduct reviews as necessary. These actions are directed at further strengthening corporate governance.
Corporate Governance Structure and Internal Control System
NEC has adopted the corporate auditor model of corporate governance, and has a corporate governance structure centered on the Board of Directors and corporate auditors. NEC believes this structure provides itself with the best opportunity to fulfill its governance responsibilities.

NEC has adopted a Corporate Officer System, which transferred substantial authority from representative directors to corporate officers, and NEC has clarified management responsibilities and facilitated prompt decision-making and business execution.

NEC has also striven to improve the transparency and soundness of its management by increasing the number of outside directors, establishing the Compensation Committee, and engendering closer cooperation among NEC's internal audit division, the Board of Corporate Auditors and independent auditors.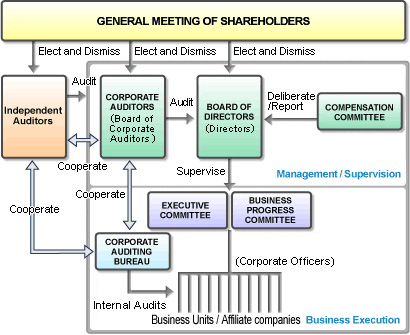 Board of Directors
NEC's Board of Directors consists of 15 members, and has five outside directors as provided under Item 15, Article 2 of the Company Law of Japan (including two outside directors added at the Ordinary General Meeting of Shareholders held on June 21, 2007). Aiming to further reinforce the Board of Director's supervisory functions, NEC has increased the number of outside members to one-third of its total membership. Additionally, in order to enrich the review and discussion of matters in the meetings, NEC has held pre-explanatory meetings with the outside directors with regard to especially important matters to be resolved at the Board of Directors.

The term of directors has been changed to one year since June 2004 in order to clarify their responsibility for management each fiscal year from June 2004.
Executive Committee, Business Progress Committee, etc.
NEC has established the Executive Committee and the Business Progress Committee to improve deliberations as part of the decision-making process and efficiency in business execution.
Executive Committee.
The Executive Committee consists of approximately 20 members of corporate officers, and deliberates the NEC Group's management policies, management strategies and other important matters. The Executive Committees discusses issues of particular importance before a meeting of the Board of Directors in order to enhance the deliberation and appropriate resolution by the Board of Directors.
Business Progress Committee.
The Business Progress Committee consists of corporate officers, executive general managers, and other members. The Committee reports and deliberates matters relating to the status of business execution of NEC Group, such as monitoring progress toward meeting budgets adopted at the Board of Directors, and facilitates management information sharing and promotes execution efficiency.
Compensation Committee.
NEC has established a Compensation Committee. The Compensation Committee consists of five members that include three outside members (of which one is the chairperson). The Compensation Committee deliberates the remuneration system and the level of compensation of directors and corporate officers. The Compensation Committee reports the results of its deliberations to the Board of Directors.

Based on deliberations of the Compensation Committee, NEC made the remuneration system of directors and corporate officers more transparent by being linked to their performance more closely, in the fiscal year ended March 31, 2002.

Accordingly, the remuneration system of directors and corporate officers has been effectively rearranged and integrated into the following components:
Monthly compensation as basic remuneration; and
A performance-linked bonus as a short-term incentive;
Retirement allowances system was abolished in June, 2006.
Audit Structure
Corporate Auditors.
NEC has adopted the corporate auditor system pursuant to the Company Law. NEC has five corporate auditors (including three outside corporate auditors pursuant to Item 16, Article 2 of the Company Law), who audit the performance of NEC's directors.The Board of Corporate Auditors establishes audit policies and receives reports from each corporate auditor on audit status. Each Corporate Auditor receives reports from independent auditors, as necessary, on their audit services, and cooperates with independent auditors through exchange of opinions and others. The Board of Corporate Auditors also approves NEC's and its subsidiaries' engagement of independent auditors for their audit and non-audit services to comply with requirements of the U.S. Sarbanes-Oxley Act of 2002. NEC has established a division with approximately five staff members, whose sole function is assisting corporate auditors' audit activities.
Corporate Auditing Bureau.
NEC has established the Corporate Auditing Bureau as an internal audit division. This bureau consists of approximately 50 staff members with specialized expertise in internal audits and other matters. The Corporate Auditing Bureau performs audits, with the cooperation of the internal audit divisions of the NEC's subsidiaries, to ensure legal, appropriate, and effective execution of business activities in NEC Group and makes proposals for improvements to divisions concerned.

The Corporate Auditing Bureau periodically (in case of necessity, promptly) reports the results of internal audits to corporate auditors and also exchanges the opinions with independent auditors. In addition, in order to promote mutual cooperation with corporate auditors and independent auditors, the Corporate Auditing Bureau reports to the corporate auditors issue that have been identified through the "NEC Helpline", a compliance hotline.
Internal Control System.
NEC has determined its internal control systems policy pursuant to item 6 of Paragraph 4, Article 362 of the Company Law, and has developed and operated internal control systems, including those for 1) corporate ethics and compliance, 2) risk management, and 3) information security. NEC has striven to strengthen and improve the systems on an ongoing basis. Basic Policy on Internal Control Systems
Information Disclosure Structure.
NEC recognizes that it is essential to receive appropriate assessments of its corporate value from the capital markets through timely, appropriate and fair disclosure of information. Accordingly, in order to ensure proper information disclosure, NEC has been establishing a framework to keep its internal divisions and subsidiaries informed of the current standards of timely disclosure to stock exchanges, and to ensure necessary communication and cooperation among related internal divisions and subsidiaries.

NEC has also held quarterly investors' meetings for financial announcements by the senior management, announced management policies, enhanced the disclosure of information on its websites (including concurrent disclosure in both Japanese and English), and made efforts to strengthen its global investor relations activities.