Nurturing the Future: - Smart Waste Management
Our 'Sustainable Earth' commitment
'Sustainable earth' embodies NEC Corporation India Private Limited's ("NEC") outlook towards the solution for society business, through which we aim to solve the issues facing society by maximizing the benefits of information and communication technology.

NEC considers environmental management activities to the utmost and contribute to the prevention and solution of various environmental problems. We analyze mass balance in the company's business operations and use it to develop measures to reduce its impact on the environment.

NEC applies the effort in the provision of ''solution for society'' to create a safe, secure, efficient and fair society where people lead the prosperous lives. The continuous improvements in our products & solutions establish a sustainable lifestyle base by utilizing limited resources effectively and taking measures to prevent damage to the global environment in order to live in harmony with the earth.

NEC provides support in elucidating casual factors and in formulating countermeasures for various environmental problems in order to realize a sustainable society in harmonious coexistence with the earth.
NEC waste Collection programme
NEC complies with the E-Waste (Management) Rules, 2016 and E-Waste (Management) Amendment Rules, 2017. As part of Extended Producers' Responsibility, NEC has set up a collection mechanism to channelize and dispose e-waste.
Collection and storage of E-waste
NEC has associated with WEEE CARE (a Producer Responsibility Organization) to facilitate its customers to enable them to dispose off e-waste products after its end-of-life.
WEEE CARE is registered with Central Pollution Control Board ("CPCB") as Producer Responsibility Organization and has obtained all the necessary authorisation from the appropriate government agencies for their processing facilities related to e-waste management. WEEE CARE will help NEC in fulfilling their compliances related to EPR and E-waste Management.
Further, NEC have also association with GreenZon Recycling Private Limited ("GreenZon"), a recycler registered with Uttar Pradesh State Pollution Control Board, for the environmentally safe and sound management recycling for all its e-waste. GreenZon shall collect e-waste from NEC's collection center and carry them to their plant in environmentally safe and sound manner in order to recycle/dismantle the same. GreenZon has all the necessary authorisation related to e-waste dismantling and recycling from UPSPCB/CPCB.
NEC has also partnered with F1 Info Solutions and Services Private Limited ("F1 Info Solutions) as its Product Service and Maintenance Partner and with Blue Dart Express Limited ("Blue Dart") as its Logistics Partner for door to door collection of e-waste.
As per NEC's agreements with F1 Info Solutions and Blue Dart respectively, environmentally safe, sound transportation and handling of all its e-waste collected from door to door service will be done by Logistics and Product Service and Maintenance partners.
If any customer wants to handover their old product, they can reach out to NEC by calling on NEC's toll free no. +91 18004192222 and register themselves.
Once registered, request for the pick-up will be transferred by NEC to its Logistics Partner/ Product Service and Maintenance Partner for necessary action.
During the collection of the e-waste, Customer will be provided with the receipt with the product description that can be used to gain the benefits of NEC's e-waste policies/ schemes.
Process of collection & disposal of E-waste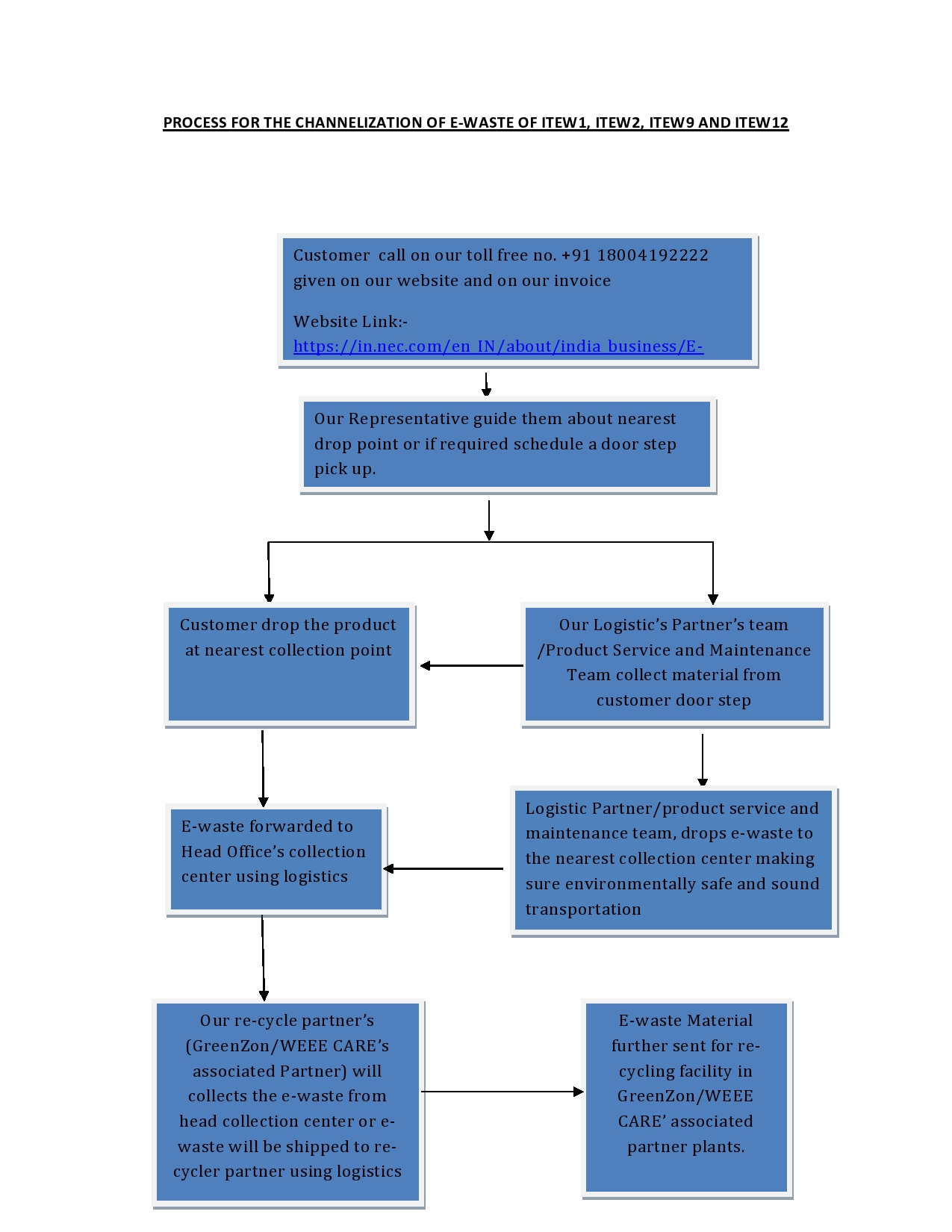 Damages and consequences caused by E-waste
Electronic components contain plethora of toxic materials in varying degrees that contribute directly to a disrupted ecosystem. The dangerous traces of methyl, cadmium, arsenic, mercury, Lead, Barium and Polybrominated Flame Retardants then seep into the soil, polluting the groundwater. If thrown in an inferno, the burnt cadmium along with other toxic substances can very well pollute the air. Many of the chemical compounds present in the electronics are cancerous in nature.
While burning the components is a major part of it, the polluted air isn't just caused by them. In fact, just throwing them into the trash can lead to the poor air quality.
Improper disposal of waste will also cause harm to animals & marine ecosystem since they rely on the environment to survive. High levels of certain minerals and metals can also stunt or kill plants, disturbing the local ecosphere dramatically.
Improper disposal of harmful wastes also directly affects the economy. It costs states more to deal with side effects such as health crisis, environmental programs and the lack of employment muscle due to death. This generally cripples members of the state that would be otherwise very productive.
It is important that measures are taken to deal with harmful waste.
The bottom line is that bad waste management practices can result in land and air pollution and can cause respiratory problems and other adverse health effects.
Do's:-
1.Always look for the information on the catalogue with your product for end of life equipment handling.
2.All the electrical and electronic products are required to be handed over only to the authorized dealers
3.Keep the product in the isolated area, after it becomes non- functional/ unrepairable as to prevent its accidental breakage
4.If unwanted electronic equipment still work or can be repaired then consider donating them.
Dont's:-
1.Do not dispose the product in garbage bins along with municipal waste that ultimately reaches to landfill.
2.Don't sell or give the discarded hardware to any trash dealer
3.Do not mix the products into household waste stream
4.The product should not be opened by user himself/herself, but only by authorized service personnel.


Collection points/Centres
NEC Corporation India Pvt. Ltd.

18th & 19th Floor, Tower C, Advant Navis Business Park,

Plot 7, Sector 142




Noida, Uttar Pradesh 201305

NEC Corporation India Pvt. Ltd
5th Floor, Tower-C, IBC Knowledge park, 4/1, Banerghatta road, Bhavani Nagar, Suddagunte Palya, Bangalore,
Rural Karnatka- 560029
NEC Corporation India Pvt. Ltd

2nd Floor, C Tower, Times Square Building,Marol, Gamdevi, Andheri Kurla Road, Andheri East, Mumbai-400059

NEC Corporation India Pvt. Ltd
Global Infocity Park Chennai, Block-A, 9th Floor, Module-2A, 40-MGR Salai, Kandanchavadi, Perungudi,
Chennai , Tamil Nadu-600096
NEC Corporation India Pvt. Ltd

1206 & 1207, Royal Trade Centre, Hazira - Adajan Road, Jalaram Society, Adajan Gam,
Adajan, Surat – 395009

NEC Corporation India Pvt. Ltd
3rd floor, central building, Vidyanagar, Hubli, Dharwad,
Karnatka- 580021
NEC Corporation India Pvt. Ltd
Block-A, unit No.-409 & 410, fourth floor, safal pegasus, Prahladnagar road, Vejalpur,
Ahmedabad- 380015
E-waste Management helpline